In the past few years, cyber crime has increased drastically. Every other day we hear news about cyber criminals breaking into the servers of big corporations and siphoning off millions of private information about the company and as well as the users.
Companies like Twitter, Adobe, Ubisoft and many more have been the victims of massive cyber attacks that have led to compromise of sensitive user information such as credit card details and email accounts. Most companies that are aware of these security breaches, usually inform the affected users via email. But since only a few cyber attacks come into the limelight, there are many more silent cyber attacks that go unnoticed.
Recently, security analysts have stumbled upon a huge cache of sensitive data that was up for sale on the online black market. The cache of sensitive data was stolen in separate, multiple attacks, and nearly 105 million records were stolen in a single data breach. Such a huge cache of sensitive data has been stolen and nobody had a idea about it until it was up for sale online. This is just an example of how dangerous silent security breaches can be.
According to cybersecurity firm Hold Security LLC, the sheer volume of data contained more than 360 million email accounts and 1.25 billion email addresses without passwords. This is definitely more than the Target security breach that happened recently, in which the debit and credit card information of more than 40 million users were compromised by hackers.
The problem is most of the cyber attacks are not discovered early and its usually takes months for someone to notice them. So the important question that arises is, how do you know if any of your online accounts have been compromised in a security breach?
If you get notified it time, you can change your account credentials, which should keep your accounts safe. But in case you're skeptical and feeling paranoid, here's a free web service that will let you know if any of your online accounts were compromised in any of the recent security breaches.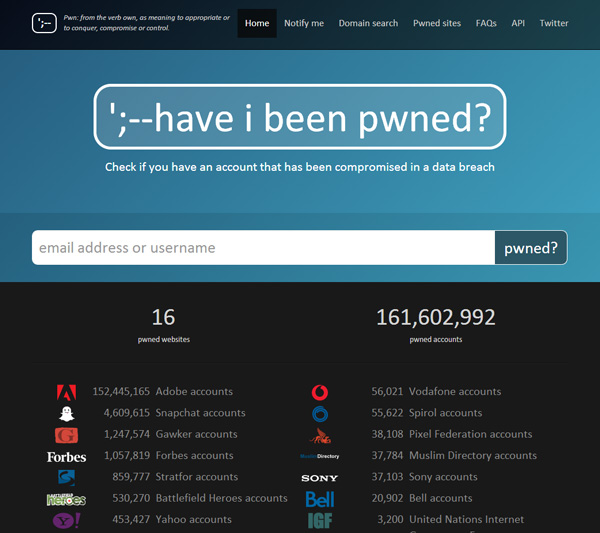 Courtesy of Haveibeenpawned.com, you can now check if you have an account that has been compromised in a data breach. What the service does is, it collects the breached data which have been made publicly available and when you enter your email id, the service compares it with its database of compromised accounts and notifies you know if your email account is found in any of the recent security breaches.
Just to clear your doubts, the site only stores the email id and usernames of the compromised accounts. If you have more doubt, check out the FAQ page for more details.
Make sure you check if your account has been compromised and do let your friends and family members know about this service as well. It would be even better if you can manually check your friend's email id's and let them know if their accounts are compromised.