Recently twitter has introduced a new tagging feature which allows anyone to tag your their photos uploaded on twitter. According to twitter this feature will make you more social, but if you are a Facebook user, you would already have seen the consequences of this feature. Once the tag feature is enabled, you absolutely lose control over the pictures which are associated with your twitter profile. In a worst case scenario, your twitter profile may be used to spread spam.
For those who are not interested in this feature, twitter has also provided an option to turn off this feature before it gets out of control like it happened on Facebook. For those who want to turn off the tagging feature on Twitter, here's how you can turn off this feature.
How to Turn of Photo Tagging on Facebook
Step 1: Navigate to the Security and Privacy settings on twitter or click this link: https://twitter.com/settings/security
Step 2: From under the privacy section select the "Do not allow anyone to tag me in photos" option and click on the Save changes button at the bottom of the page.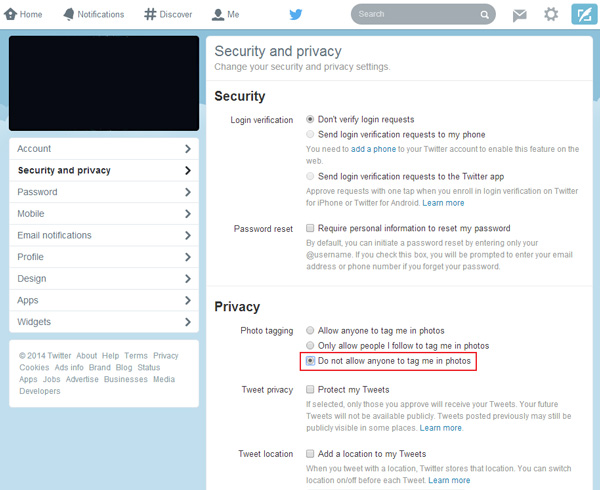 That's it and now nobody will be able to tag you on their photos on twitter.