Want to track the progress of your download in utorrent without even opening the program? Here's how you can do that.
When it comes to downloading torrents, we always want them to be finished as quick as possible. Even if we have a ultra fast internet connection, we are always at the mercy of the several peers from whom our torrents get downloaded.
You cant deny it, but when a download is in progress, most of us can't resist the urge to check its progress every now and then.
Definitely we do have other works to take care of and and we can't keep staring at the Utorrent download window for hours. However what most of us are not aware of is, Utorrent has this extremely useful feature that will allow you to monitor the progress of a download through a download bar which will always sit at the top of your windows desktop.
For those who want to use this feature, here's how you can enable the download bar for tracking the download progress of torrents on Utorrent.
How to Enable Download Bar for specific Torrents in Utorrent
Open Utorrent and right click on any ongoing download and select Advanced > Show download bar.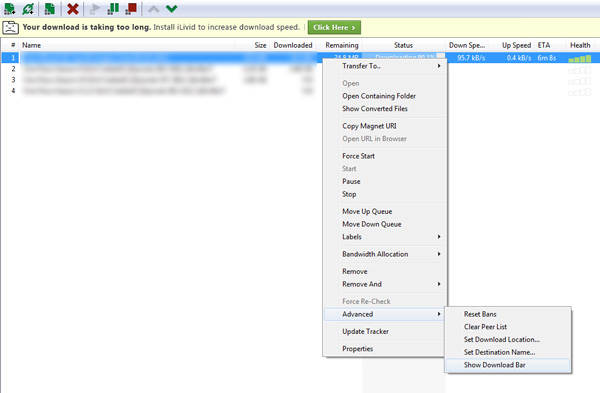 That's it and now you a download bar will appear which will show you the download progress of the selected torrent. As i said before, the download bar will permanently sit on the top of the windows desktop until you right click on it and select close.