Nowadays people just love to watch YouTube videos online and it has even become a major way of passing time online or rather we can call it as a  productivity killer. The most common websites for people to watch videos online include YouTube, Vimeo, Metacafe, Dailymotion etc.. But if you have got a slow Internet connection then watching Youtube videos can be a P.I.T.A. Which is why It would be a better option to Download YouTube videos to your PC, rather than watching them online. Waiting for the entire video to buffer can be utterly boring and Downloading YouTube videos will help you save your precious time  .
There are many websites online that offer free services to download YouTube videos . We will be sharing a few of these sites with you using which you can download YouTube videos for free from almost any video streaming site. Some of these sites listed here even offer additional services of converting  videos to different audio and video formats .
Here are 5 of the best YouTube video downloading sites which will help you to download your favorite videos from YouTube and other major video streaming sites online .
5 Websites to Download YouTube videos Online


Keepvid is one of the best web services that helps you with downloading videos from major video streaming websites. Using the service is very simple, just copy the link of a video from any of the video streaming sites and paste it in the input box provided. Click the download button and you will be offered from various formats of audio and video files to download from . There is also a keepvid program for windows to download YouTube videos but you need to buy a license and activate it for the program to work .


Savevid is a online video downloading site, which offers the same featuresas keepvid . The download process is same as keepvid . Copy the link of the video you want to download and enter the link in the input field . Press download and click on the desired format you want .


Deturl is an online video downloading service . You need to copy the video's url and enter it in Deturl's input field . press download and save the audio/video format you want .


Clipnabber is a video downloading service like the rest . It is available in Multiple international languages . Copy the desired video's link and enter it in clipnabber's input box . Click download and save the desired file format .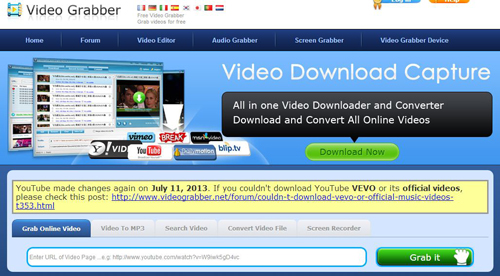 Videograbber is a online video downloading and video converting service . you can use the site to download your favorite online videos or convert them into a different format . Past a video's URL in videograbber's input box and click "grab it " and save the desired video format .
If you have got some more video downloading sites then feel free to post them in the comments .