If you are a PC gamer, I don't even need to introduce you to Steam. Owned by valve corporation, Steam is one of the worlds largest online game store for PC games. The Steam store sells only digital copies of PC games and most of the time its prices are less compared to other retail and online sources for PC games.
Few years back games were generally purchased through retail channels such as offline game stores. But as high speed internet became affordable and mainstream, people switched to digital download for PC games since these were cheaper than the box packed physical copies and at the same time people didn't had to worry about storing the games. This is where Steam became a huge success.
In countries like the US and UK, where high speed internet connections are common among households, downloading digital games through steam is a piece of cake. But when we talk about other countries such as India, where high speed internet connections are yet to take off, it usually takes hours and days to download games from steam, especially when the average size of games today is around 15GB.
While you may be able to download the games after hours of wait, but what will happen if you computer is infected by an virus or the hard disk crashes? You would have no other option rather than downloading the game once again.
Fortunately Steam offers a easy solution to this problem. With steam's built in game backup feature, you can easily backup downloaded games to a DVD or an external storage media and the next time you want to install the game on your computer, you don't have to download the games once again, instead you can use the game backup to restore the game. If you ever need to use this feature, the instructions below will show you how.
How to Backup Steam Games
Step 1: Open steam on your computer and navigate to the Library section.
Step 2: Right click on a game which you want to backup and select Backup Game Files from the context menu.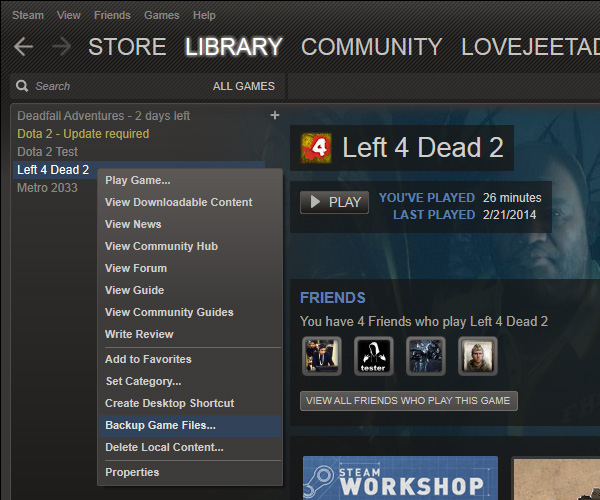 Step 3: Next a dialog box will show you the amount of space required to backup the game. Click on Next to continue.
Step 4: Select a folder or drive where you want to create the game backup.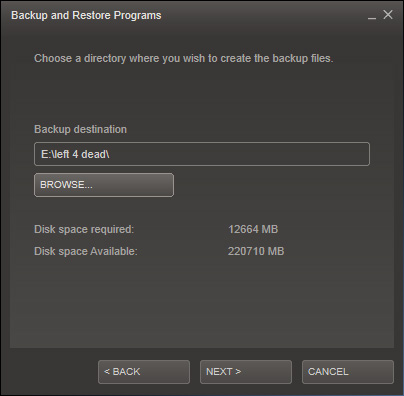 Step 5: Next you need to choose the file size in which you want to create the game backups. In my case, I will be burning the game backup to a dual layer DVD disk, which can hold around 8.7 GB of data. So I selected the Custom file size option.
Step 6: If you select the custom file size option , you will need to specify a file size for the game backup. This is only necessary if you are going to burn the game backups to a CD, DVD or a USB flash drive, which have a fixed storage capacity.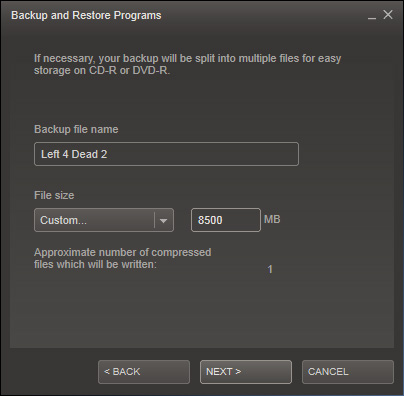 Step 7: Finally click on Next to start creating the Game backups.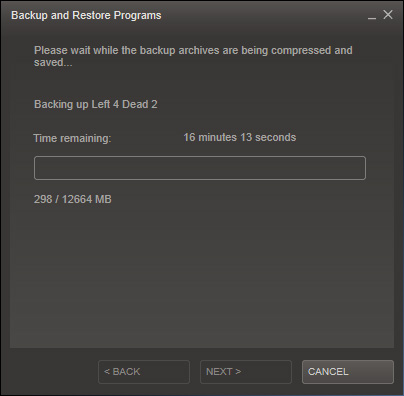 Wait for a few minutes till the game backups are created and once its done, you can burn the backups to a DVD media or copy it on a external storage media.
How to Restore Steam Games from a backup
If you need to restore a game from the backup, here's how you can do that.
Step 1: Open steam and click on Steam > Backup and Restore Games.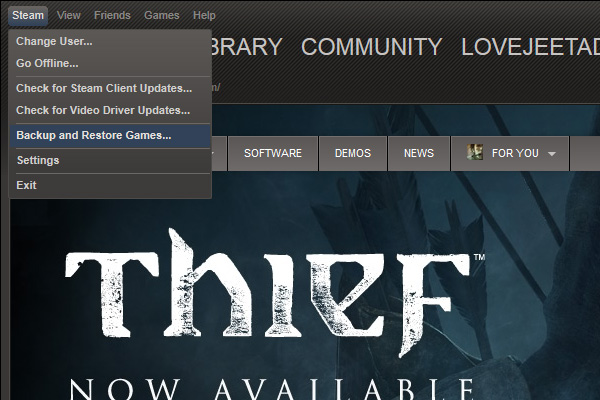 Step 2: Next select the folder or drive where the game backup is stored.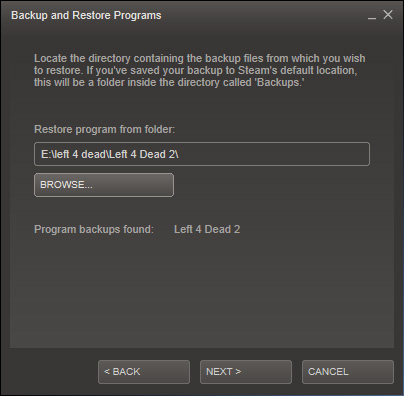 Step 3: Finally click on Next to start restoring the game from the game backup.