Google is now allowing all its Adsense publishers to create and use Custom sized Adsense ads on their website. Using custom sized Adsense ads, Adsense publishers can now create both custom sized text and display ad units and use them on their websites and blogs.
Previously this feature was an exclusive to premium Adsense publishers, but now as this has become common for all Adsense publishers, Definitely general  Adsense publishers are going to see a increase in their earnings with this new feature. Adsense publishers can  create custom sized ad units by specifying their own width and height ratio which means larger ad units are bound to get higher CTR and thus resulting in higher earnings.
The Custom-sized ad units will behave just like their standard size counterparts, showing a text or display ad depending on which will have the best performance for the impression. Which means you might have a 600 by 300 ad unit. But depending upon Adsense's available ad inventory and the best performing ads, you might either see a 300 by 250 ad unit or a 336 by 280 ad unit, all of which will be aligned to the center.
The new Custom sized Adsense ads are not responsive, which means the size of the ads will remain fixed regardless of the screen orientation and size of the devices on which the ads are being viewed. So if you need a responsive ad then you have to use the predefined responsive Adsense ad unit. Custom sized Adsense ads also come with a few restrictions which are:
Custom sized Adsense ads restrictions
Only one dimension can be greater than 300 pixels
The minimum width is 120 pixels
The minimum height is 50 pixels
Neither height nor width can exceed 1200 pixels.
These restrictions will not be much of a problem to most adsense publishers since most of us don't even need adsense ads more than 1200 pixels in height or width. Here is how you can create a custom sized Adsense Ad
How to Create A Custom-Sized Adsense Ad unit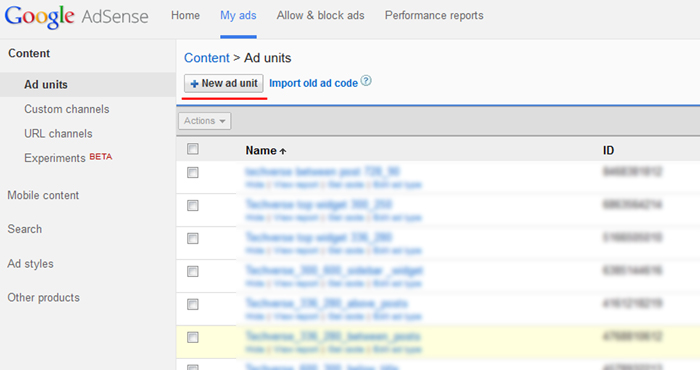 Step 3: Type in a name for the ad unit and click on the drop down menu beside Ad size and select Custom ad size.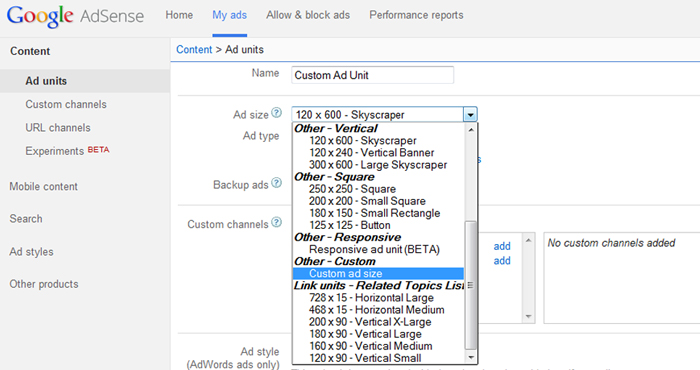 Step 4: Now keeping the restriction in your mind, type in a height and width value for your custom ad unit. Choose other settings according to your requirement and click on Save and get code to generate the Adsense ad code.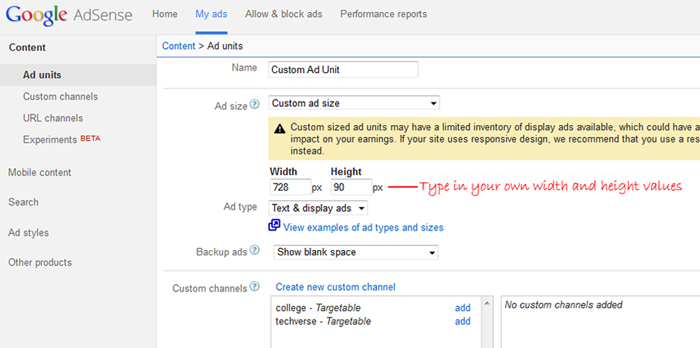 Now copy over the code and use it on your website or blog. I have been using the new custom sized ads on my website for a week and definitely larger ad units ( such as 600 by 228 ad units ) are getting a higher CTR but at the same time they are also increasing the bounce rate of my blog. Well this might not be the same with you, do try out these custom Adsense units and let me know how it works out for you.
Here are some examples of custom Adsense ads:
Custom Sized Adsense Text Ads: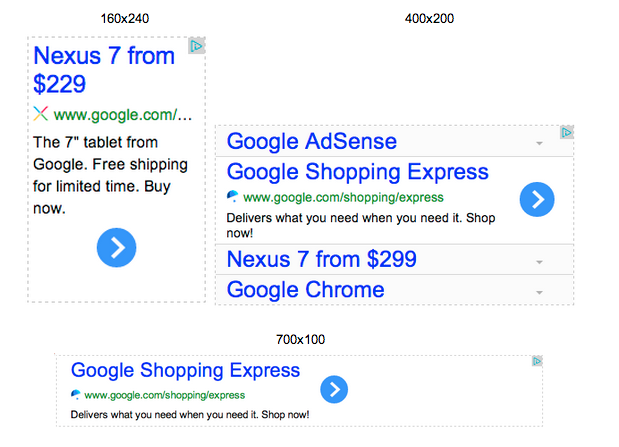 Custom Sized Adsense Display Ads: