Most of us love browsing through photographs and videos on Instagram. No doubt Instagram is full of beautiful pictures and photographs, but even if they are free to view, Instagram doesn't allow users to downloading them. Although there's no traditional way to download and save photographs and videos from Instagram, Rooted android phones on the other hand are capable of doing that with the help of some custom apps. Of course you can take screenshots of the photo in Instagram, but again they won't be captured in full resolution.
Since not everyone has a rooted android phone, I wont be discussing about apps that require a rooted phone to download photos and videos from Instagram. Fortunately now there's a new android app on the Play store that's capable of downloading photos and videos from Instagram without the need of rooting your android phone.
Courtesy of EasyDownloader, now you can easily download photos and videos from Instagram to your android phone without the need of rooting it. Using the app is very simple, but before you install it, you need to make sure that the Instagram app is already installed on your android phone, otherwise EasyDownloader might not work properly.
The only drawback of this app is, it can't download photos and videos that are shared privately. But that wont be a problem since most photos and videos on Instagram are not shared privately. Here's how you can use EasyDownloader to download and save photos and videos to your android phone.
Download: EasyDownloader android app
Device used: Samsung Galaxy S3
How to Download Photos and Videos from Instagram on Android
Once the EasyDownloader app is installed on your android phone, you can then view any photograph or video on the Instagram app and tap on the three dots below them. Finally tap on Copy Share URL and the app will fetch the Link from the clipboard and download it. This is as simple and easy as it can get.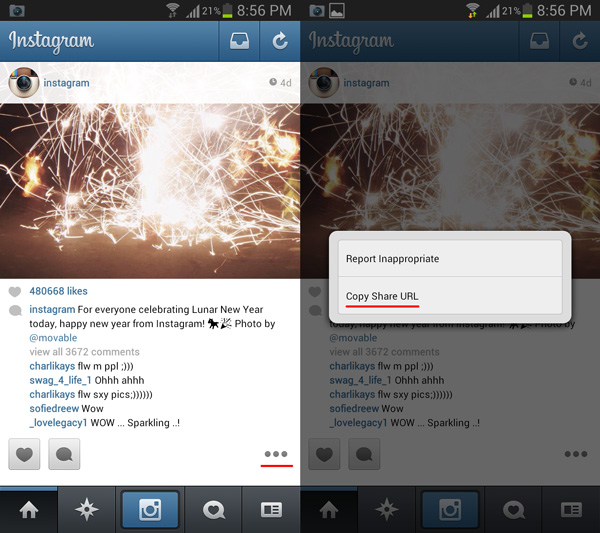 You can check the download progress on your phone's notification drawer.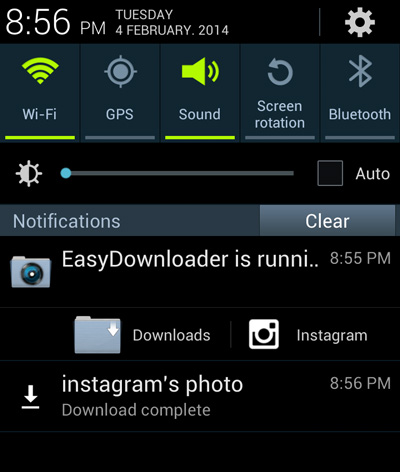 How to View the Downloaded Photos and Videos
The downloaded photos and videos can be viewed from your phone's gallery and they are usually saved at SDcard/Pictures/Instagram or SDcard/Movies.