There are many methods to download YouTube videos on an Android phone . The easiest is by using Keepvid.com or any similar free video downloading services on the internet . But if you want to try a more straightforward and easier method to download videos from YouTube then you can try using a free android app .
Tubemate is a free android app , using which you will be able to download YouTube videos to your android phone . Although the app is not available from the android app store . We can guarantee you that this handy little app is totally safe . Apparently it was once available from the Android app store , but as it was an app to download YouTube videos , it did not comply with Google's policies and was removed from the Play store .
You can download the Tubemate app from m.Tubemate.com . Visit the link on your Android phone to download and install the tubemate app . Once you have downloaded and installed the Tubemate app , follow the instructions below to download YouTube videos using the Tubemate app . Apart from downloading YouTube videos this app can also download YouTube videos as a MP3 .
Features of Tubemate :
Fast download mode (with multiple connections for a download)
Multiple download resolution options
Background, multi-download
Resume downloading
Convert to MP3 (powered by MP3 Media Converter)
Playlist as video/audio(powered by Meridian Player)
Share your video finds via Google Buzz, Twitter or e-mail at the tap of a button
YouTube search and related videos suggestions
Save favorite videos to your YouTube account, create playlists
Note: Downloading YouTube videos on your Android phone is not recommended while using a 2g / 3G / 4G data connection . Unless you are on a unlimited bandwidth internet plan , downloading YouTube videos will increase your data bill . Always try to use a WiFi connection to download YouTube videos using Tubemate .
Instructions to Download YouTube Videos using Tubemate
Step 1: Download and install the Tubemate app on your Android phone .
Step 2: In the app , tap on the search icon and type in your desired videos name .
Step 3: Once the videos are loaded in the app , tap on a video to play it .
Step 4:  Tap on the green download icon on the top right of the app to download the currently playing YouTube video .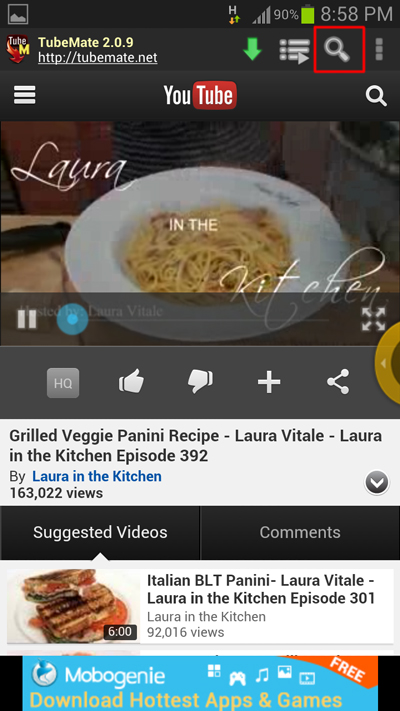 Step 5: Next you will be prompted to select from a list of video formats to download from . select a video format and tap on the download button to download the YouTube video on your Android phone .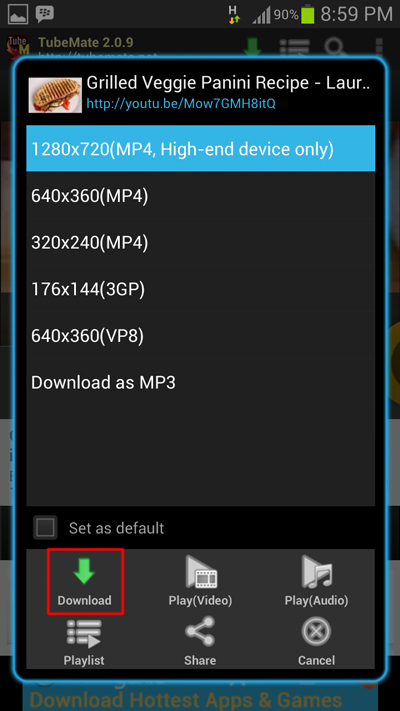 Step 6: Now the Tubemate app will start downloading the video in your phone's background . The current progress of the video being downloaded can be accessed by expanding your Android phone's notifications .