Google  has recently changed to a new Flat design User interface for most of its products including its most popular Search engine and free email service Gmail . While these changes to the user interface have been welcomed by many users , Some of the users still prefer the old Gmail interface .
The Notable changes in the new Gmail interface includes addition of two new Social and promotion tabs . The social tab filters and stores all your emails coming from various social networks whereas the promotion tab filters and stores all promotional and advertisements related emails from various sources . The new tabs ensure that the most important emails get to your primary tab and the rest gets diverted to their respective Social and promotions tab depending on their sources .
For me , i feel the promotional tab a bit annoying as i hate unnecessary ads in my mail . So i found out  how to hide the new tabs in Gmail . Moreover many users have reported about ads being served in disguise of  emails in Gmail's new interface . The most shocking thing is some of the users received ads from sources they never subscribed to .
Actually there is no need to worry here . Gmail has now started to place ads in your mailbox in disguise of promotional emails , although right now it is only limited to the new promotions tab . If your are facing the same issue or you're uninterested in the new features , then here is how you can hide the new Social and promotional tabs in Gmail .
Instructions to hide / disable the Social and promotion tabs in Gmail
Step 1: Click on the settings ( Gear icon ) to the top right in Gmail and select configure inbox .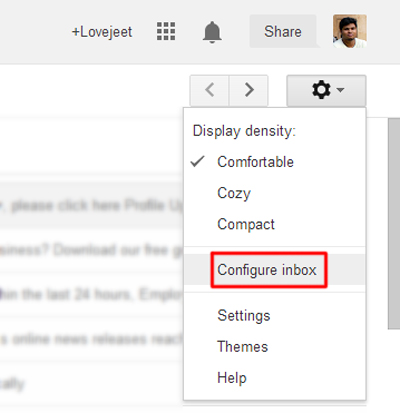 Step 2: Now you can un-check Social and promotion on the page that appears and click on save to hide / disable the Social and promotions tab .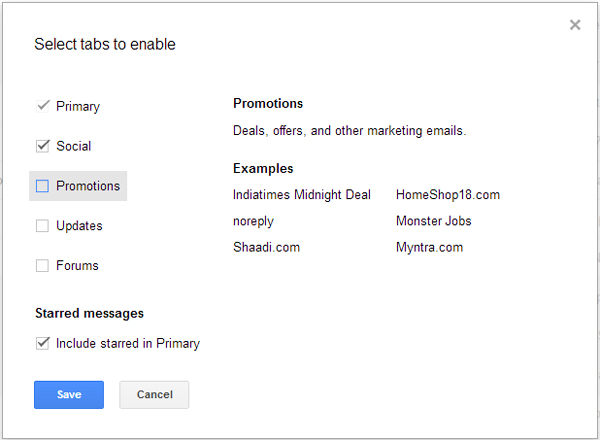 Thats it , now you have succesfully hidden / disabled the social and promotion tabs in your Gmail account .