At the beginning of this year, Google finally added the long awaited data compression feature to Chrome for iOS and Android. This has been a standard feature in Opera mini for years and with the feature now built into Chrome for mobile, definitely I expect Chrome to be zippier than Opera mini.
For those who are not aware of what this feature is meant for, The Google data compression feature will help you to save bandwidth, load pages faster and browse the internet securely with Chrome for iOS and android. Here's how it works.
When you are using Chrome for mobile with the data compression feature enabled, all the web pages requested by you wont be downloaded directly to your phone, instead all the sites would go through Google's data compression servers and your phone would received a compressed version of the web pages, thus your data usage will be reduced significantly.
Most people would wish to have a similar feature in Google chrome for desktop PC's and fortunately, though not official but there's an extension for Google chrome which can add the data compression feature to the desktop version of Google chrome.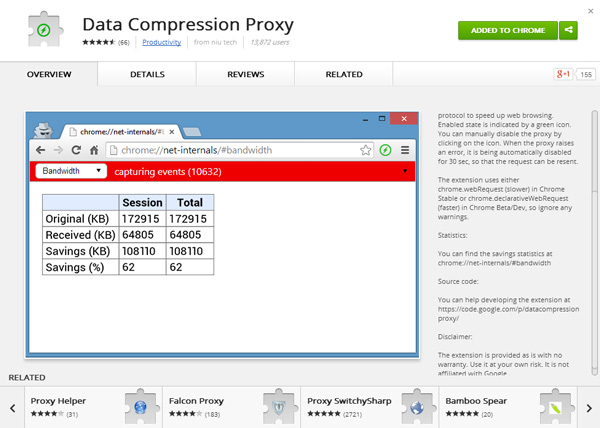 Data Compression Proxy is a free extension available on the Chrome web store which brings the data compression feature from Chrome mobile to desktop PC's. Since this is an experimental feature you can't expect it to perform like its mobile counterpart but the reviews for this app are mostly positive.
Currently the extension is only capable of compression HTTP traffic and all traffic through HTTPS won't be compressed. Once you install the extension on Google chrome, it will start working instantly and appear as a green icon in the chrome extension bar. If you need to disable the extension, simple click on the green icon.
If you want to see the statistics of the data compressed by Data compression proxy, you will need to enter the following command in chrome's URL bar.
chrome://net-internals/#bandwidth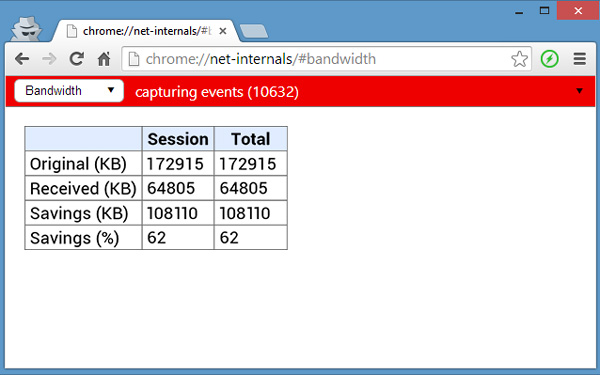 Download: Data Compression Proxy for Google Chrome
Overall the Data Compression Proxy extension for Google chrome is a must have for people who don't have access to high speed internet connections and definitely this is a feature that I would like to see built into the next builds of Google chrome.