By default android doesn't have support typing in most Indian languages except for Hindi, which is also a very recent addition to the OS with the release of android 4.1. However for those who need to type using their native India languages such as Tamil, Telugu, Oriya, Urdu …etc,  you can install one of the many free apps available on the Google play store that can add support for various Indian languages.
Among all the apps that can add support for various Indian languages on your android phone, a recently released app on the play store called Indic keyboard is something that stands out among its counterparts.
Indic keyboard is a free and open source Indian language keyboard input app for android that brings in support for more almost 15 native Indian languages. Once installed the app will extend android's default keyboard and enable you to choose from 15 Indian languages such as Assamese, Bengali, Gujarati, Hindi, Kannada, Malayalam, Marathi, Nepali, Oriya, Punjabi, Sanskrit, Sinhalese, Tamil, Telugu, Urdu.
Installing the app is very easy since the app itself provides step by step instructions for installing and configuring it. Once the app is installed and configured, your phone's default android keyboard will be replaced by Indic keyboard and you can change the input language to choose among the 15 supported Indian languages to type with.
Since the app provides a step by step guide for install and configuring it, I am going to skip directly to the typing part and show you how you can switch and choose among the 15 Indian languages to type with.
How to Switch between various Indian languages on Indic keyboard
Step 1: Once you have installed and configured the Indic keyboard on your android phone, open any text editor, such as the messaging app and the default android keyboard should have been replaced by Indic keyboard.
Step 2: To change the input language, long press on the mic icon and tap on input languages.
Step 3: Now uncheck the Use system language option and select any of the Indian

 languages you want to type with. Finally press the back button and the input language should have been changed now.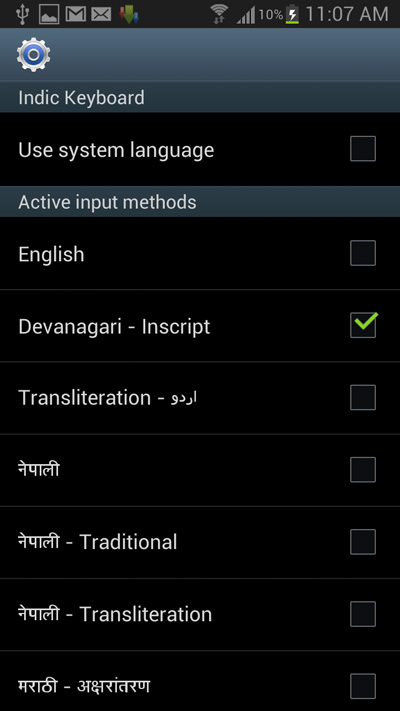 Now you can type with your selected input language. Here's an example.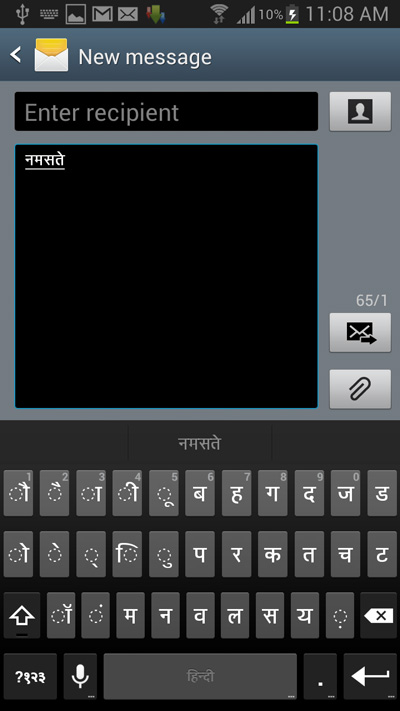 If you need to switch to the default android keyboard, long press on the space bar and select from any of the input method provided.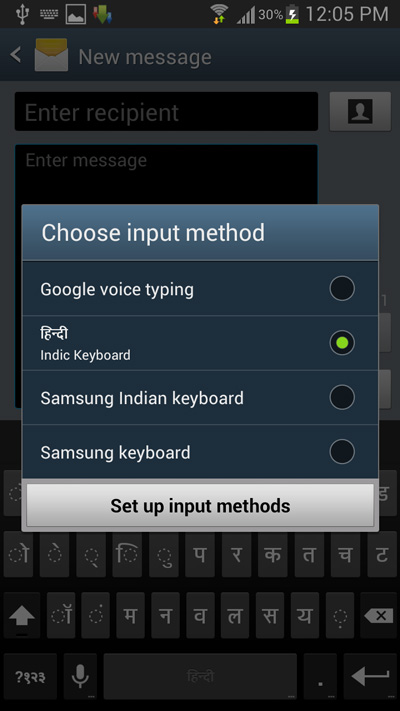 Download: Indic Keyboard
Overall, Indic keyboard adds in support for almost 15 Indian languages, which is by far the maximum languages offered by any other app in its category. Although not all of us might be well versed in so many Indian languages but if you need to type with Indian languages on your android phone, Indic keyboard is a must have app for your android phone.