Recently Google drive got its free storage capacity upgraded from 5GB to 15GB. With all that free storage available at your disposal, you might be thinking of different ways you can put it into use. In case you are click happy shutterbug, you should consider using your Google drive storage to backup photos from your android phone. If you are not sure, here's why you should.
Usually most of us take our phone's storage capacity as granted, which is why we don't even bother backing up photos until our phone runs out of space. The problem is, nobody knows when or how something might go wrong with your android phone and in extreme cases you might even lose all the data on your phone, including the photographs. Unlike other data, which can be recollected from various sources, the lost photographs on the other hand, cannot be captured once again.
To avoid such an situation, you should make use of Google drive's free storage space to automatically sync photos from your phone. This way you can stay assured that no matter what happens to your phone, your precious memories will remain safe. As Android does not have a built in photo syncing feature, you will need to use an android app to do so.
The Play store is filled up with many apps that can serve the purpose for syncing photos from an android phone to your Google drive storage, but here's one app thats exactly made for this purpose.
Gallery Drive sync, as the name suggests, is an free android app that will help you to sync photos from your android phone with your Google drive storage. Contrary to the popular belief sync photos with this app is rather very simple. Here's how you can sync photos from your android phone with your Google drive storage.
How to Sync Photos from Android phone with Google Drive
Step 1: Install the Gallery Drive Sync app from the Google play store.
Step 2: Open the app and tap on Sync all to select the folder in which the photos captured from the camera are stored. In the popup that opens up, tap on YES to confirm it.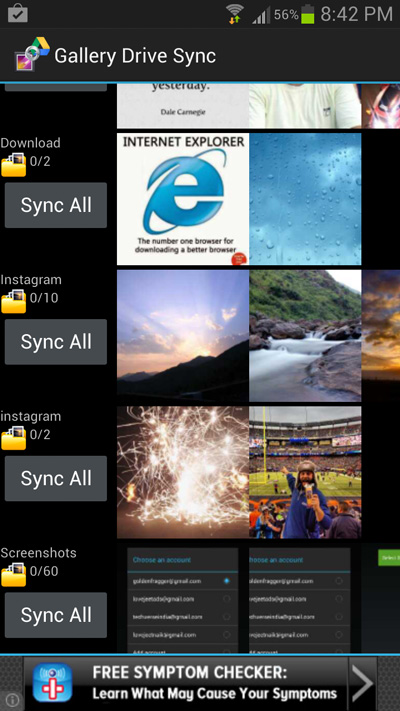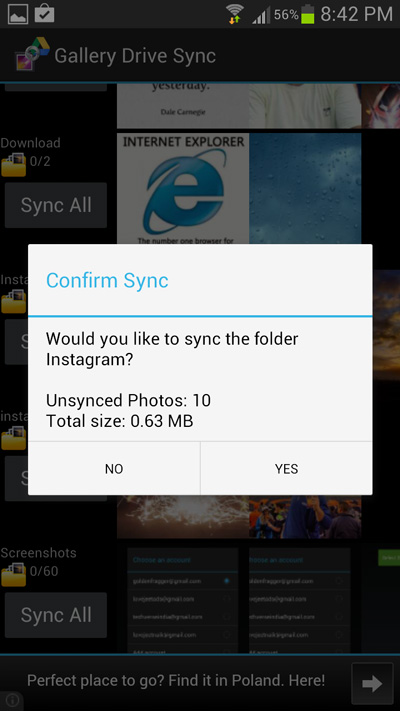 Step 3: Next you will need to select your Google account and tap on OK.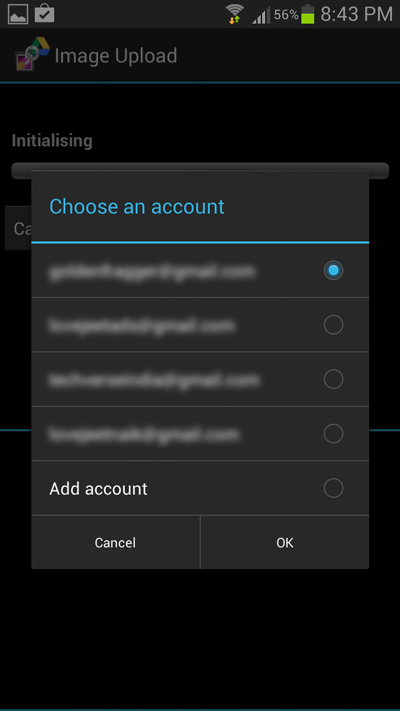 Step 4: Now you will need to authorize the app to access your Google drive storage. Tap on OK to confirm it.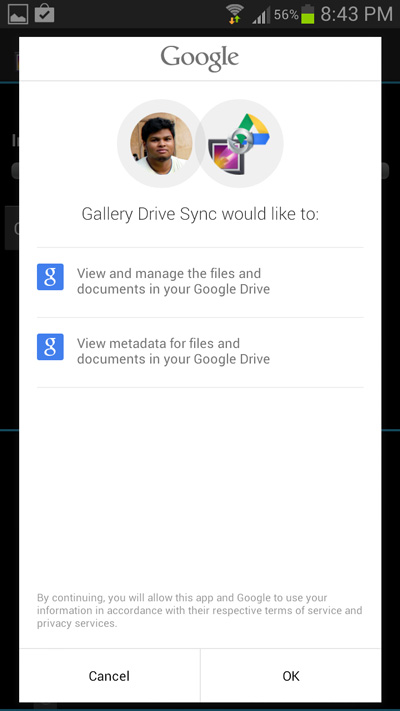 Step 5: Finally the photos would start syncing with your Google drive storage.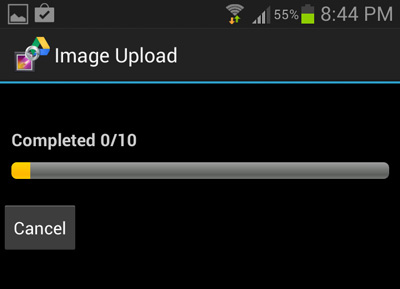 How to enable Auto sync
To enable auto sync, go to the app's settings and tap on Enable Auto Sync. In case you have a limited data plan, you should check the Only upload over WiFi option to enable uploads only when your phone is connected to an WiFi network.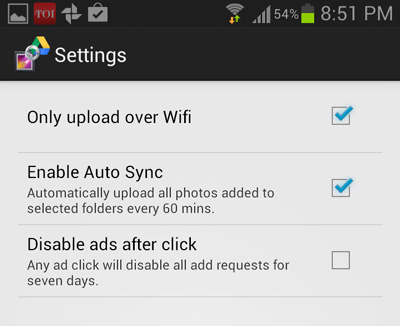 Now the photos in the selected folder will be automatically uploaded every 60 minutes. With this app on your phone, you no longer have to worry about your phone's storage space. If you ever run out of space, simply deleted the synced photos from your phone and you will have enough free storage to capture a few more photos.