If you are using the latest version of Microsoft word, then you would already know how easy it is to save any word document as a PDF file. But how about the way around ?. When it comes to converting a PDF file into word document, it is not possible via any of the Microsoft Office products. While there are many paid services and software that can help you with converting PDF files into word documents, a free service beats them all.
For the next time you need to convert an PDF file into a word document, you can use this amazingly useful site that can convert from a plethora of digital file formats. For today we will use it for converting PDF Files into Word Documents. Depending on your need, you can use this free service to convert any file online.
Zamzar.com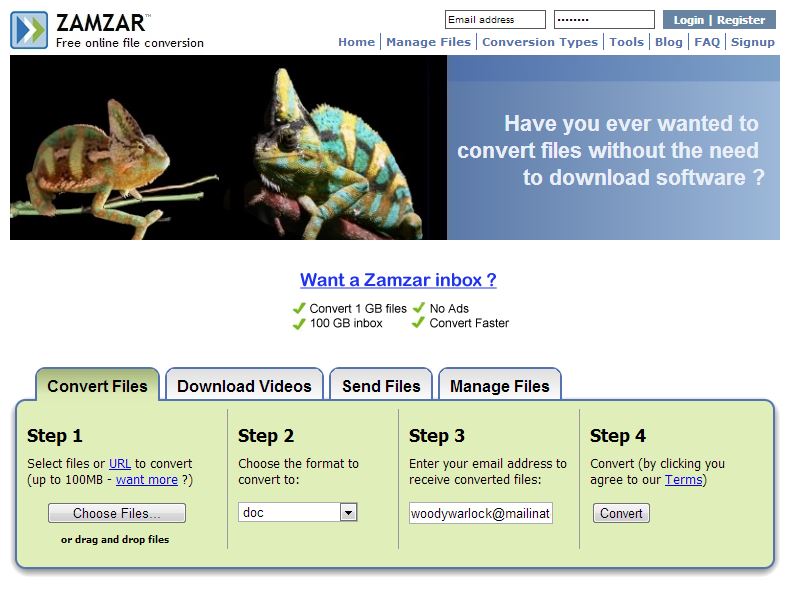 I bet you would be already aware of this very famous online conversion tool. For those of you who are new to this site, Zamzar.com is an online file conversion service, which is capable of converting to and fro from a wide range of formats. Just to sum it up, it can virtually convert any file format available on this planet.
Zamzar.com offers a hassle free way of converting PDF documents to word files. This free file conversion tool can convert PDF files of up to 100Mb in size. To convert your PDF files into word documents, all you need to do is select the a PDF and enter your email id and finally click on the convert button. As soon as the file is converted it will be delivered in the email id provided. Further the service even takes care of all images and keeps them intact in the converted Microsoft word documents.
Note: If you are concerned about your privacy then you can create a disposable email id at Malinator.com and receive the converted files there.
Instructions to Convert PDF Files into Microsoft Word Documents
Step 1: Head over to www.Zamzar.com
Step 2: Under Step 1, Click on the choose file button to select a PDF file and next select the doc file as an output format from the drop down menu under step 2.

Step 3: Next Enter your email id in which you want to receive the converted word document and finally click on the "Convert" button to convert your PDF file.
Once the PDF file is converted you will receive it instantly in the Email id provided.