Google has become a part of our daily lives and for the majority of the people who visit the internet everyday, Google is their guide to the entire internet. However there a creepy side to Google that most of us are not aware of. Every query that you search on Google and all the websites that you visit from the Google search results are anonymously recorded by the search giant.
According to Google, the recorded search data is used to provide you with better search results and recommendations across Google's products. To be frank apart from a very few people, a majority of the internet users are not aware of Google secretly recording their search queries and visited URL's. Once they get to know about this, certainly most people will object to this kind of activity.
Fortunately Google does allow you to delete your search history. You can either delete portions of your search history from a particular time period or you can delete all of it entirely. For those who want to disable or entirely delete their Google search history, the instructions below will show you how.
How to Delete your Google Search History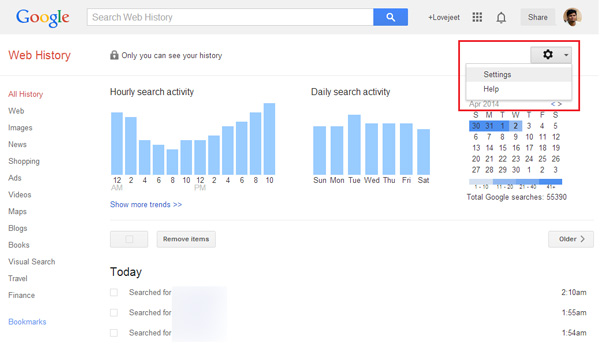 Step 3: On the Settings page click on Delete all text link

Step 4: Next you will be prompted to confirm if you want to delete all the Google search history or not. Click on Delete all to permanently delete your Google search data.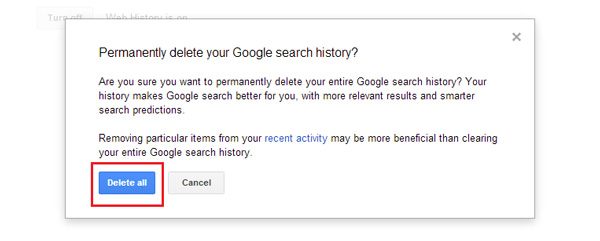 That's it, now all your Google search history will be deleted permanently. however Google will still keep on recording your search queries and websites visited, until you turn this feature off. Here's how you can turn off the Google search history permanently.
How to Turn Off the Google Search History
Head over to the Google search history page https://history.google.com/history/settings and click on the Turn off button to permanently turn off the Google search history. Once you've done this, Google will no longer record your Google search history.