YouTube is the worlds largest collection of user uploaded videos and as we speak there are thousands of videos being uploaded simultaneously . which makes It pretty much impossible to run out of videos to watch on YouTube . When you have a internet connection , you can access YouTube anytime . but what about when your internet connection is down ?
One thing that i am sure is , without an internet connection YouTube is of no use to anyone . That is why many a times i prefer to download videos from YouTube and watch them later , and in any case if my internet is down i don't have to get bored .
There are many websites online that offer to download YouTube videos for free. All of these websites are capable of downloading one video at a time , but none of them are capable to download multiple videos from YouTube .
This is where you can use a free program called Free YouTube Download to download multiple videos from YouTube . Using this program you can easily download multiple videos from all YouTube channels , playlists , categories and even covert them all to a different file format .
Using Free YouTube download is very easy , its user interface is very simple and it has a lot of useful features . With free YouTube download you will be able to use the following features :
– download videos in original YouTube quality, including HD and 4K;
– convert YouTube to MP4, AVI, WMV;
– fastest multi-stream downloading;
– customize output name easily;
– save and load links from external text files;
– save download history;
– import videos to iTunes automatically;
– download videos which require YouTube browser authorization;
– work via proxy servers and VPNs.
For a free software , this is more than you could even bargain for and i can't even imagine any other important feature that has not been included in this program .
Like most free softwares do , Free video download comes with a few bloatwares too . But you don't need to worry about them , as you can choose custom installation ( advanced ) and select the only features you want . Follow the instructions below to download multiples videos from YouTube .
Instructions to Download multiple videos from YouTube
Step 1: Download and install Free YouTube Download . Be careful for bloatwares when you install this program , select custom installation and un check all the bloatwares in the installation process . Once the program is installed run it .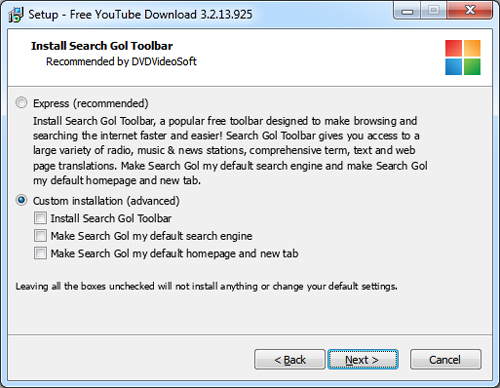 Step 2: Copy the link of any YouTube channel , playlist or category from your web browser's URL bar .
Step 3: Right click on free YouTube download and select paste URL .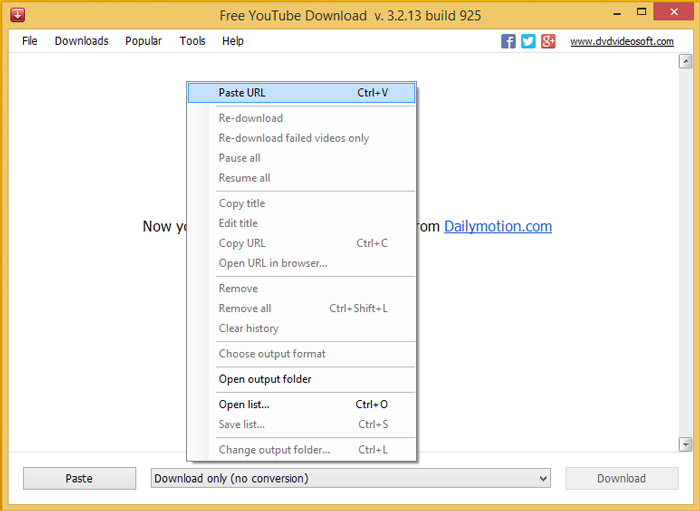 Step 4: Wait for a few seconds as the program detects all the links . When its complete you will see the channel name with number of videos in it and the total download size .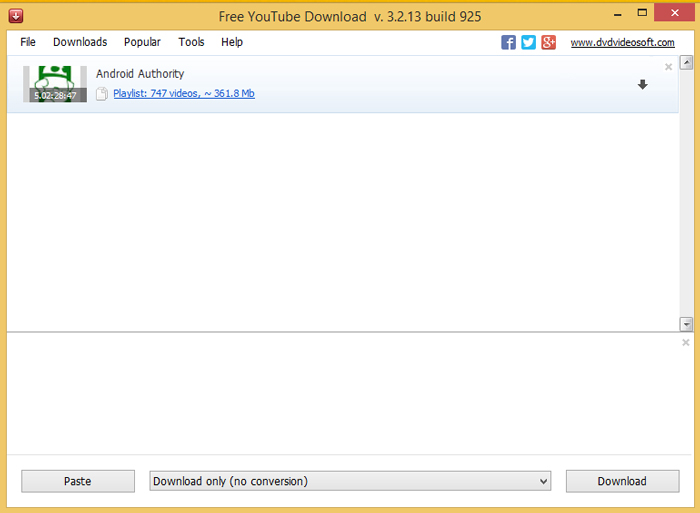 Step 5: Click on the channel name and in the window that opens up , manually select all the videos you want to download .
Step 6: From the playlist windows drop down , select the video resolution in which you want to download the YouTube videos and click on close .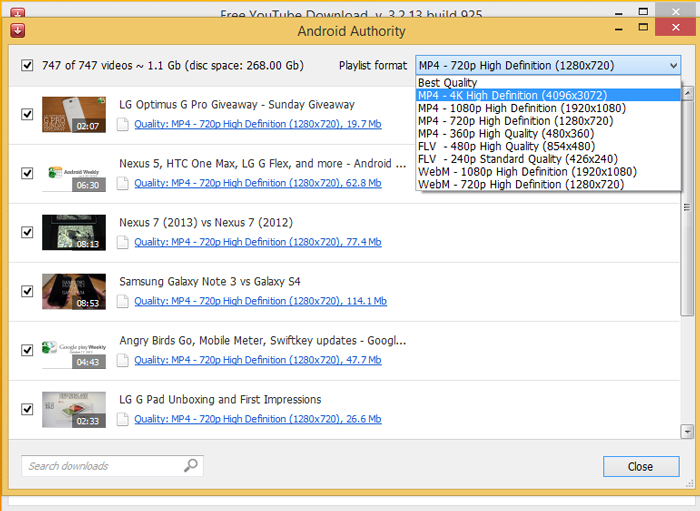 Step 7: Now On the program's main window , you can see all the total number of videos selected from the YouTube channel and the overall size of the downloads .
Step 8: Click on the download icon to the right and the program will download all the selected YouTube videos .



Thats it , now depending on your internet connections download speed  it might take some time to download the videos ,  after which you can watch them any time at your leisure .