Indian Nexus fans won't have to wait much longer to get their hands on the new Nexus 5. The new Nexus 5 is now available for purchase in India through the Google Play store at Rs. 28,999 and Rs. 32,999 respectively for the 16GB and 32GB versions of the smartphone.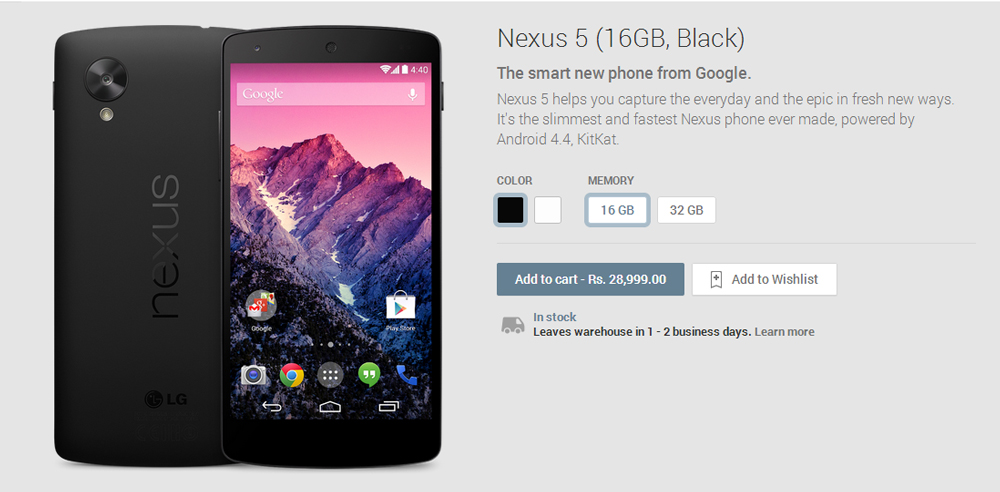 The Nexus 5 is available in both the black and white variants and according to the Play store the device will be shipped under 1-2 days after ordering.
The Google Nexus 5 was revealed a month back on October 31'st. Officialy this is the first time for a nexus phone to be sold via the Google play store in India. Although the device was already available for purchase via selected Google outlets in India, the competitive pricing of the Google Nexus 5 is going to give a tough competition to other flagship Android smartphones.
On the hardware part, The new Nexus 5 comes with a quad-core Qualcomm Snapdragon 800 processor running at 2.25GHz,  coupled with 2GB of ram for smooth multitasking. On the display, the smartphone has a 4.95 inch full HD display with an 1920 x 1080p resolution ( 445 ppi ), which  is protected by Corning® Gorilla® Glass 3 .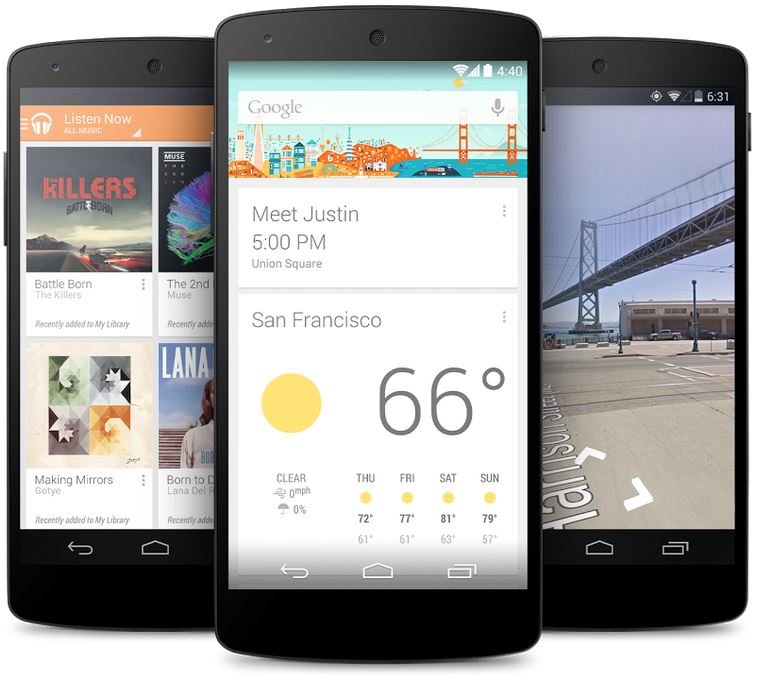 For shutterbugs, the smartphone incorporates a 8MP camera on the rear and a 1.3Mp camera on the front for video calling and other services. As usual the Nexus 5 drops support for any expandable storage and the storage is limited to 16GB and 32GB with its two variants. Last but not the least , the Nexus 5 is powered an 2300 mAh battery which should provide you a talk time about 17 Hours.
With all the above features, the Nexus 5 is also support Android 4.4 KitKat out of the box. The new android 4.4 KitKat OS brings a host of new features including the new Google launcher, update Hangouts app with SMS integration. Combine all these with the amazing price tag, this can a big reason for the nexus 5 to sell significantly more than its competitors.
You can buy the Google Nexus 5 from the links below:
Alongside the Nexus 5 , Google has also made Nexus 5 bumper case available for purchase via the Play Store. The bumpers cases for Nexus 5 are available in four colors of Black , grey, red and yellow and all of which are priced at Rs. 2,499.