After selling its Smartphone division to Microsoft, most us were left wondering with what Nokia's next step would be. Finally we have got an answer to that, Nokia has taken its first steps and it seems Nokia is interested  in android development.
Apart from its Nokia X series of smartphones, Nokia now has another thing to contribute towards Android. Yes, Nokia has released an android launcher called as the Z launcher. The Z launcher is compatible on all android phones running android 4.1 or higher.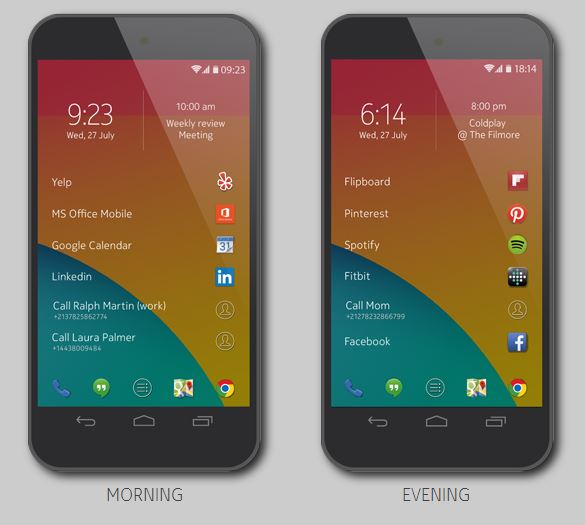 You might be thinking what's special about this launcher? Well, the Z launcher is entirely different from all the other launcher available for android. According to Nokia, the Z launcher " adapts to your requirement ".
Most Android launchers pack in a lot of things in their interface, thus making the interface look clumsy and even slow down certain phones. Nokia's Z launcher on the other hand has a minimal approach in its interface and It separates all the unnecessary elements from the home screen to display the apps and widgets that you use the most.
On the Z launcher, the top part of the home screen is occupied by the date, time and an upcoming calendar widget, tapping on them will open their respective apps.
Below the date and time widgets, the bottom space is occupied by a combination of 6 apps, contacts or web pages which are used frequently by the user.
As i already said before, the Z launcher is not static. Based on your everyday life, the Z launcher will try to learn from our usage patterns and adapt itself to show your most used apps.
Another impressive thing that the Nokia Z launcher boasts about is the " Scribble" feature. The Scribble feature will allow you to scribble letters anywhere on the Z launcher and access a list of apps starting with the scribbled letter.
You can even consecutively scribble two or more starting letters of an app and the Z launcher will launch the app. For example, If you want to open Facebook, you can consequently scribbled the words " F " and " A " and the launcher will open the Facebook app. Additionaly you can even perform web searches by scribbling the letters on the screen.
Unfortunately as the Pre-beta has already hit the maximum capacity, the Z launcher is currently not available for download to the public. For those who are interested in the Z launcher, you can head over to the Z launcher's website to be updated with the next beta or final release.