How do you prefer to interact with your friends on Facebook? you poke them, post on their walls or comment on their posts. When major social networks apps such as Whatsapp and Wechat are already offering audio messaging as a standard feature, why is Facebook lagging behind?  
Although the Facebook messenger app for android and iOS has a feature to send voice messages to your friends, but on the web, messaging is still limited to monotonous texts and smileys.
For those who have been eagerly waiting for an audio commenting feature on Facebook, you don't have to wait anymore till Facebook launches it officially. If you are a Google chrome user, you can skip the wait and use the Talk and Comment extension to add audio commenting and voice messaging features to Facebook on the web.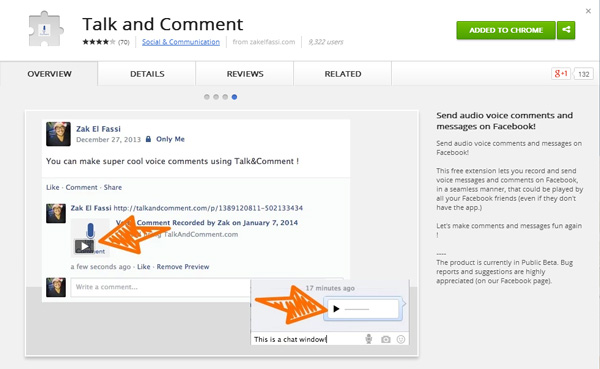 Once you install the Talk and Comment extension in Google Chrome, you can then comment on you friends posts using audio comments and send voice messages through the Facebook messenger. The instructions below will guide you through the process of installing and using the Talk and comment extension on Google chrome.
Post Audio Comments and Voice Messages on Facebook using Talk and Comment extension
Step 1: Install the Talk and Comment extension on Google chrome from the link provided at the bottom of this article. When installed, the extension will ask you permission to access your microphone. Click on Allow to grant it access to your microphone.

Step 2: You will then be able to see a mic icon in the comment fields below all posts in Facebook

.

Step 3: Click and hold the mic button and speak anything to record an audio comment. When you release the button the audio comment will be converted into a URL.

Step 4: Press enter and the URL will be automatically converted into an audio comment. The same even goes for Audio messages.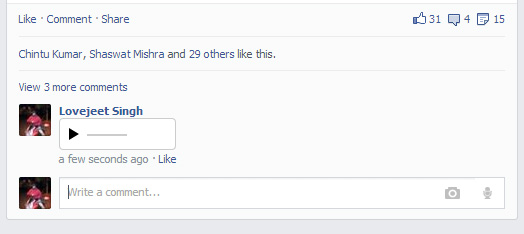 As usual the audio comment will only appear as a playable link to the receiver if only he / she is using Google chrome with the Talk and Comment extension installed. Otherwise what they would receive is a link to the Audio comment which once clicked will be opened in a new tab with a playable button. This should not be a problem since you can tell your friends to install the extension beforehand.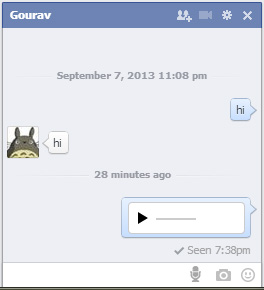 Believe me, if you are not using audio comments on Facebook, you are really missing on a lot of fun. Leave behind the age old tradition of chatting with monotonous text and smileys. Audio comments and voice messages are a more fun way of interacting with your friends on Facebook. Go ahead and install the Talk and Comment extension Google chrome and speak it out on Facebook using audio comments and voice messages.
Download: Talk and Comment extension for Google Chrome.