After the acquisition of Whatsapp by Facebook for a whooping $19 billion dollars, most of the employees at Whatsapp have now become millionaires overnight. While Facebook and Whatsapp might be busy celebrating the moment, they do have a surprise for you as well.
One of the feature that most of you have anxiously waited for has now made its way to the latest version of Whatsapp for Android. With the latest version of Whatsapp for android, you can now hide the "last seen at" timestamp. Additionally the latest update even allows choose who can view  your profile photo and status message.
The latest version of Whatsapp with the new privacy settings is yet to arrive on the Google Play Store and at the moment the privacy features can only be accessed by installing the Whatsapp apk file that's available on Whatsapp official website.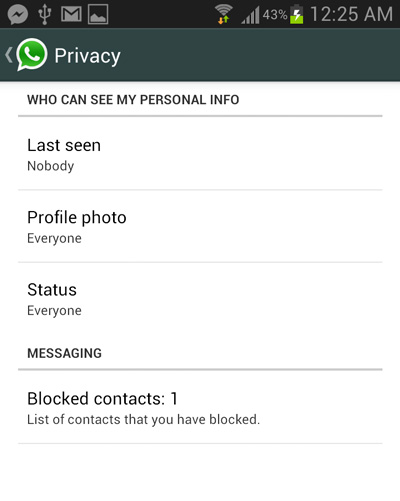 For those who want to skip the wait, backup your chats and install the Whatsapp app over again using the apk file downloaded from the above link. Once the app is installed on your phone, you will be able to access the privacy settings under the accounts section. The minimum requirements listed on the download page require you to have a android phone with android 2.1 or higher and a unlimited data plan, as usual tablets are not yet supported by the android app.
Note: We don't know if this is a permanent feature or not, Whatsapp has the right to withdraw this feature anytime it wants.