Definitely I want my Facebook timeline to look neat and clean. But with Facebook's new tagging feature, everything has just got out of control. Now whenever any of your friends tags you in a photo, the photo automatically appears on your Facebook timeline.
And again as we all know we cannot stop our friends from posting on our timeline. No matter how many times we try to hide posts from our Facebook timelines, in the end our Facebook timelines will be once again cluttered with tagged photographs and unwanted posts.
Fortunately Facebook allows you to select who can post on your Facebook timeline. Limiting this capability to yourself will permanently prevent anyone else from posting on your Facebook timeline and even stops tagged photos from appearing automatically on your Timeline. This feature can bring respite to a lot of Facebook users who are fed up of spammers and unnecessary tagged photos from appearing on their timeline. Which is something common with girls.
So here is how you can prevent tagged photographs and posts from appearing on your Facebook timeline.
How To Prevent Tagged Photos and Posts From Appearing on Your Facebook Timeline
Step 1: Login to your Facebook account, click on the Cog icon and select Privacy settings ( Or click Here ).
Step 2: Now click on Timeline and tagging to the left menu.
Step 3: Under timeline and tagging settings, there will be two options under Who can add things to my timeline. Click on Edit next to Who can post on your timeline and from the dropdown button that appears select Only me.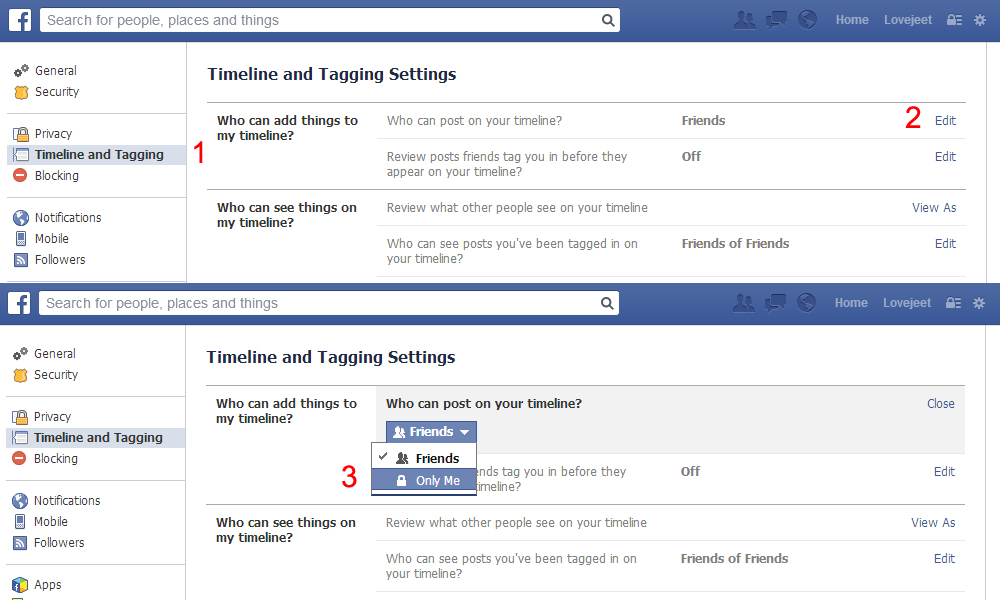 That's it and now nobody apart from yourself will be able to post anything on your Facebook timeline.