Do you miss having an audio equalizer whenever you listen to music videos on YouTube? Thanks to Chrome's support for extensions, you can now easily add an Audio Equalizer on Chrome using the Chrome Audio EQ extension.
The Chrome Audio EQ extension can be downloaded and installed freely from the Chrome web store and once installed, an Equalizer icon will appear in Google chrome's extension bar.
Since the Chrome Audio EQ extension supports HTML5 audio, it simply won't work with Flash or silverlight audio. However as YouTube videos now play using the HTML5 player, you can always listen to your favorite music videos on YouTube and use the Chrome Audio EQ extension.
Additionally, since most websites have started to support HTML5, if a website supports HTML5, you can force it to use HTML5 with the HTML5ify extension for Google Chrome.
The following instructions will show you how you can use the Chrome Audio EQ extension on Google Chrome.
Adding a Audio Equalizer to Google Chrome
Step 1: On Google Chrome, head over to this page : Chrome Audio EQ and install the extension.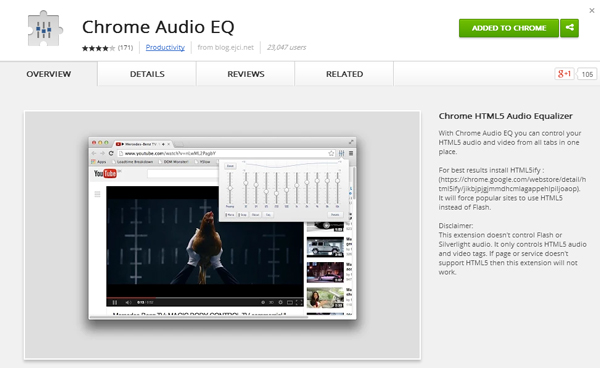 Step 2: Once the extension is installed, you will be able to see a Equalizer icon in Google Chrome's extension bar.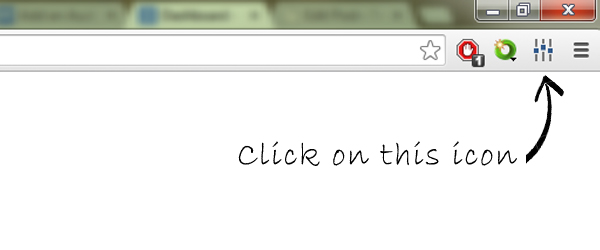 Step 3: Now open a YouTube video and when the video starts playing, click on the Equalizer icon to access the Equalizer.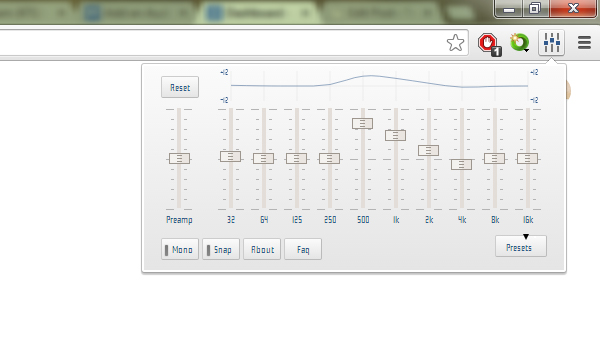 There you go, now you can tune the equalizer to your requirement. As i said before, in case you want to you've the Chrome Audio EQ extension on other audio and video sharing sites, just install the HTMLify extension on Google Chrome and force the website to use HTML5 instead of Flash or Silverlight.