Google chrome is definitely one of the fastest web browsers currently. While it Might be able to beat down all its contenders hands down in terms of speed and features, Chrome does has a weak point. When it comes to memory usage, sometimes chrome may act a little weird and consume a lot of your RAM and CPU's resources . This eventually might cause your computer to slow down and even may lead to blue screens.
A similar problem happened with me a few days back. I have been using Google chrome for a long time and suddenly Google chrome started to consume up a lot of my computer's ram and CPU resources. Every time when i rebooted, my computer worked flawlessly but when i started Google Chrome, it started to lag and even it slowed down my computer and eventually lead to a blue screen. This was it, i started searching for possible solutions and fixes for this problem online .
I followed most of the solutions and fixes i could find  but nothing seemed to work . So i tried checking each and every setting of Google chrome and eventually i found a solution . The culprit was one of my Google chrome extensions and removing all the extensions solved the problem. Although the culprit in my case was a extension but it might not be the same in your case .
If you have a similar problem where Google chrome is hogging a vast amount of your computers ram and CPU resources, then let me provide you some tips on how you can troubleshoot this annoying problem . Simply follow all of the methods provided below and i am sure one of them should definitely work for you.
Method 1 : Use Google Chrome's inbuilt task manager
Google chrome has a inbuilt task manager ? yes it apparently does . Its made for advanced users but anyone can benefit from it . To bring up the task manager on Google chrome just press the following key combination ( Shift + Esc ) .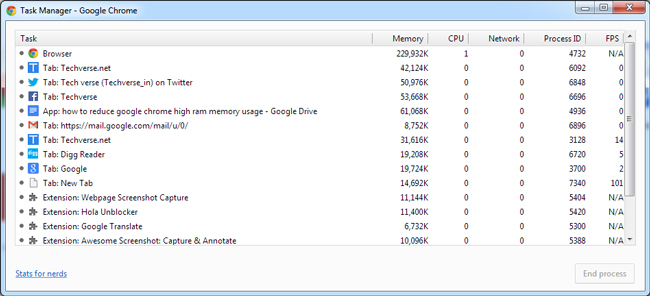 The Task manager in Google chrome shows how much resource every web page and each of the chrome extensions are using. Right click on any process and you can select from more categories of information . If you find any of them fluctuating and using too much of your ram and CPU resources. Chances might be the page is infected or the extension is malfunctioning. Select the process / extension and end it and do a thorough scan of your system to remove any malware infection..
Method 2 : Remove all the extension in Google chrome 
Sometime one or multiple plugins can be the reason why Google Chrome ends up using a lot of your computers resources . You can use chrome's extension manager to find out which of the extension is using more resources. Simply select the extension and click on the End process button end it. Restart chrome and if the plugin works normally then the problem is solved, however if the problem still exists then Remove the extension from chrome and reset chrome to set it back to normal .

Method 3 : Reset chrome
If you can't find any solution to Chrome's problems through all of the above steps then you can try Resetting Chrome . It fixes most of the problems with chrome. Before resetting chrome, do sync your bookmarks and other data with your Gmail account so that you don't lose them .

If you follow these two steps then most probably your problem will be solved . If it doesn't then do add a comment below . I am pretty sure that myself or any of our readers might come to your help.