As we migrate from computers, our smartphones have now become the storehouse of our personal and private data. Wherever we go, our private data is always within our access and even for others who want to take a look at our phones..
It would be very rude of you if you were to deny your friends or family to take a look at your brand new android phone. They don't mean to take a look at your personal data or anything that invades your privacy. But you can't stop them from accidentally stumbling upon them.
In our previous articles we had discussed about an interesting app call file hide pro, which provided a clever way of hiding your private files and data. Apart from hiding files on your android device, the app was even able to disguise itself as an tip calculator app. which made it highly impossible for anyone to access your hidden files, until and unless he knew about the app. but again there are very less chances of any intruder getting across the password.
Today, as the title suggests, i am going to introduce you with a new android app that will help you to password protect and lock the android apps on your phone and further it even allows you to trigger a error screen and deceive others.
Most of us use Gmail, Facebook, twitter and many other apps that just made for our personal use and definitely none of us would want others to access these apps. Password protecting these apps is better measure to prevent others from accessing these apps. Currently there are many android apps on the Google play store that can help you to lock the android apps on your phone. But one app that simply stands out of the competition is the Smart App Protector.
Smart App Protector is one of the must have free android apps on my list.  Apart from the basic feature of locking apps, smart app protector offers a smart feature which can be used to prevent others from accessing a locked app. The so called fake lock feature in this app will prompt users with a error screen whenever they try to access a locked app. Unsuspecting users can be easily deceived by this trick. While long tapping on the OK button will take you to the lock screen. This is a really helpful feature that can definitely deceive anyone who's not aware of this app. Further the app allows you to choose from passwords, pattern and gestures to unlock any app.  
Here's how you can hide the apps on your phone using Smart App Protector
Step 1: Install Smart App protector from the Google Play Store.
Step 2: Once installed, open the app and enter the default password as 7777.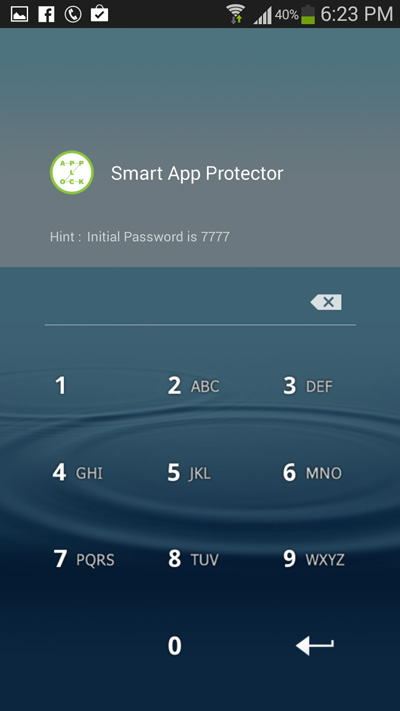 Step 3: Tap on Add and select from the list of apps which you want to be locked. Once again tap on add to confirm these apps.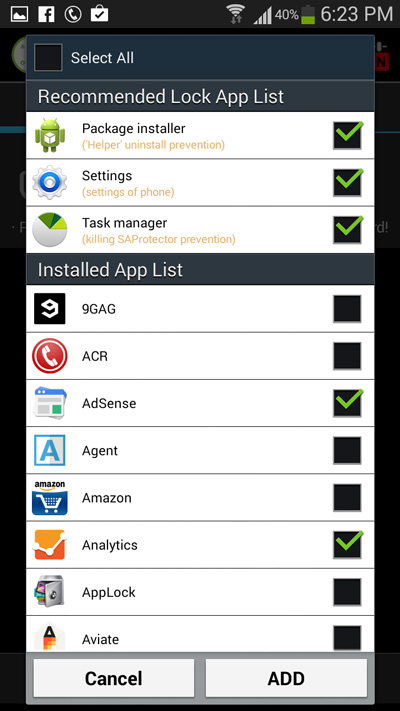 Step 4:  As i have discussed above, you can enable a fake error screen when you access these locked apps. To enable the fake lock screen tap on the fake icon beside the respective apps.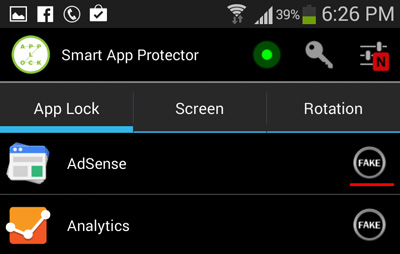 Note: The Fake lock feature will show an error pop up windows instead of the password request windows. Tap and hold on the OK button to access the password request window.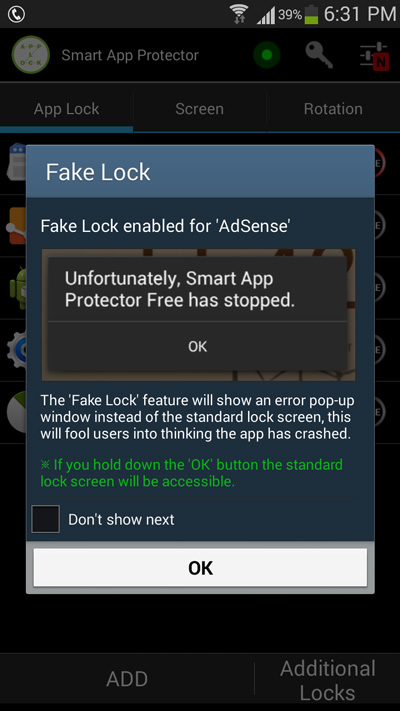 Step 5: The app also has a few additional locks that you might want to take a look at. Tap on Additional locks to view and enable the locks.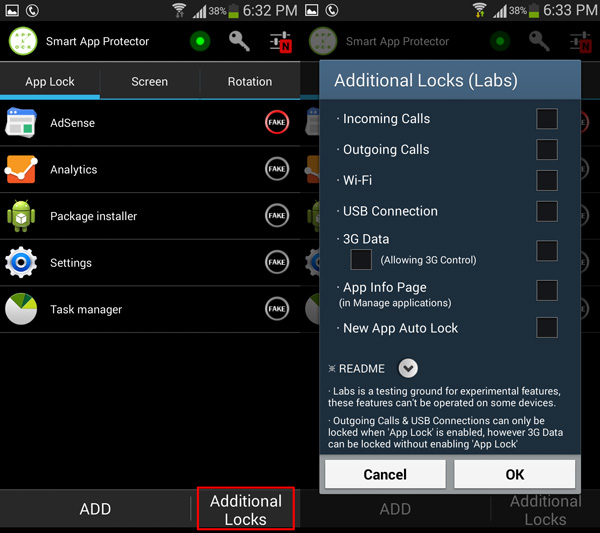 Step 6: To select the lock type, Go the apps settings and tap on Lock type to choose from password, pattern or gestures as a lock type.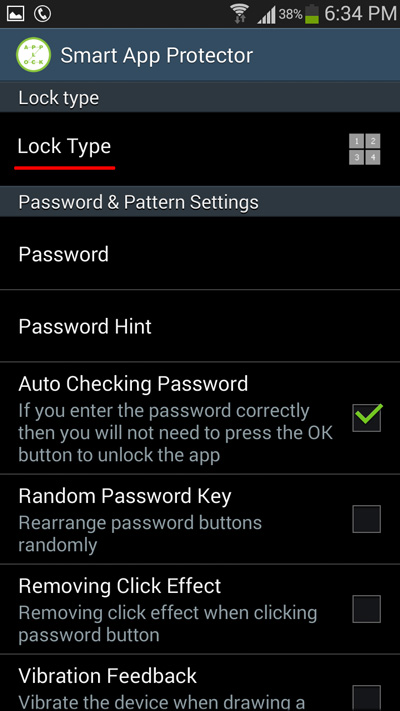 Step 7: By default the password is 7777. To change the password tap on the key symbol below the notification bar to open the apps settings. Tap on password and set the new password.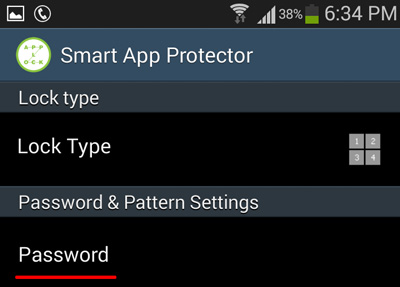 Step 8: Finally make sure the password protection service is enabled by tapping the red dot for below the notification bar. Instantly the icon would turn green which notifies that all the locks are enabled.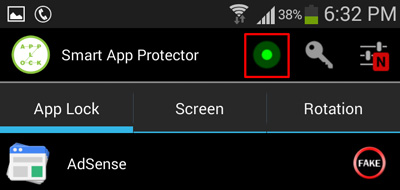 Now that the locked apps on your android phone are safe and secure. You don't have to hesitate anymore when your friends or relatives want to take a look at your new android phone.