When we want to install applications on our windows PC, we usually download the setup file for the respective application and then we install it on our PC.
Well, that's how we have been doing it for years, but now a new service called Spoon.net, brings to us another interesting way to install apps on our PC's. With Spoon.net, you will no longer need to install applications and programs on your computer, rather the service will stream apps over the internet, thus skipping the installation part and you can directly start using the application.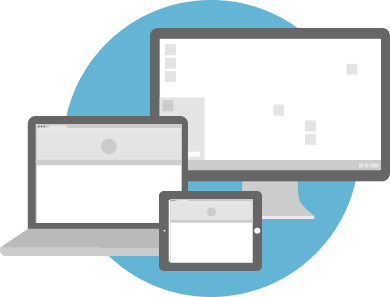 No doubt, you might be thinking how spoon.net can be useful for you? Well, it is indeed a very useful tool for most of us who make use of portable apps in their day to day life. With spoon.net, you no longer have to carry your USB flash drive containing all your portable apps. Instead you can just stream them from anywhere using Spoon.net and just like portable apps, the app settings will be intact too.
Spoon.net has a lot of apps to choose from. You can use the Spoon.net installer to stream most of the open source apps available for windows and use them for free. There are also paid apps like the entire Adobe creative suite and Microsoft office, for which you will have to buy a Spoon studio license in order to use them.
Spoon.net also allows you to run streamed apps in a sandbox environment. However this option is not available with the spoon.net console and you will need to access it from the website. Since Spoon.net apps are updated automatically, you don't have to worry about updating the apps.
Using Spoon.net is very simple. The following steps will guide you through the entire process of installing the Spoon.net console and then streaming apps with it.
How to streams Apps from Spoon.net
Step 1: Head over to Spoon.net and enter the requested details such as your name, password and email address. These details will be needed to login into your Spoon.net account.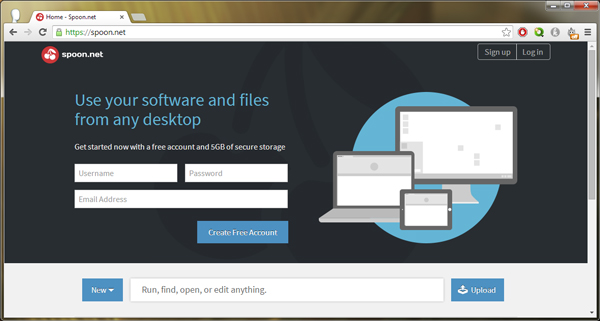 Step 2: Next click on Create Free Account and then you will be prompted to download the Spoon.net installer. Download and install the Spoon.net installer.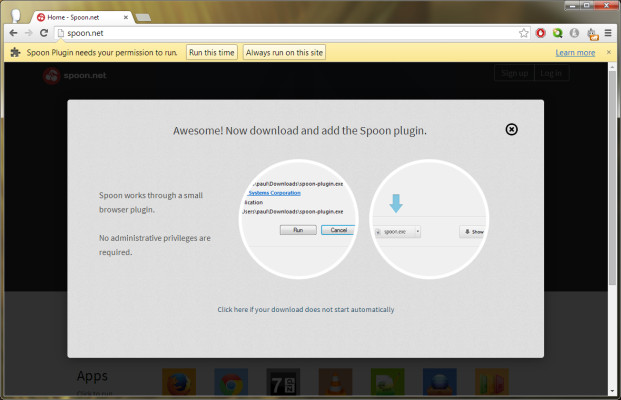 Step 3: Once the Spoon.net installer is installed, it will prompt you to enter your Spoon.net account details. Enter your Spoon.net account detail.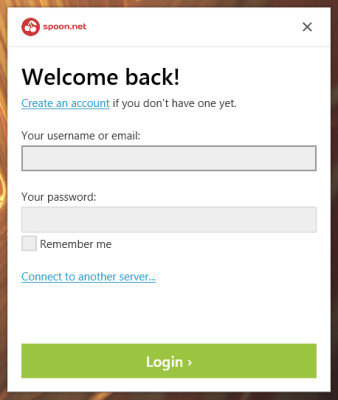 Step 4: The Spoon.net console should now pop to the right of your windows desktop, if it doesn't you can press the Windows + Alt key combination to bring it up.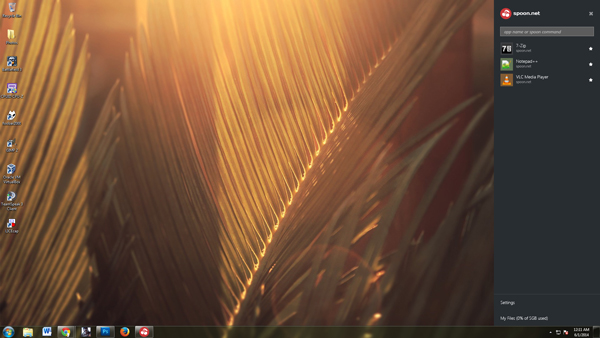 Step 5: Head over to https://spoon.net/apps to view the entire list of apps which can be streamed through the Spoon.net console.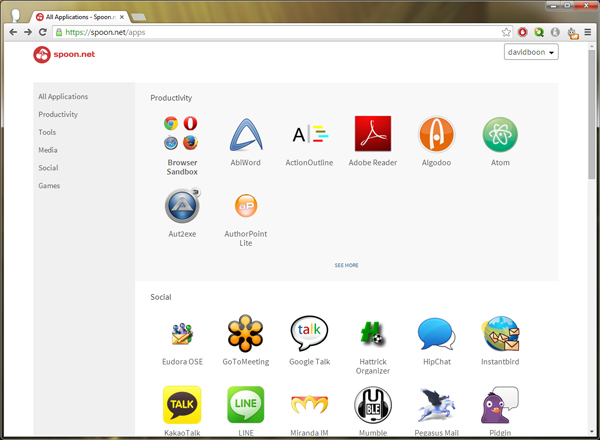 Step 6: Click on any of the listed app to access the app's launcher page. Click on the Run button to stream it.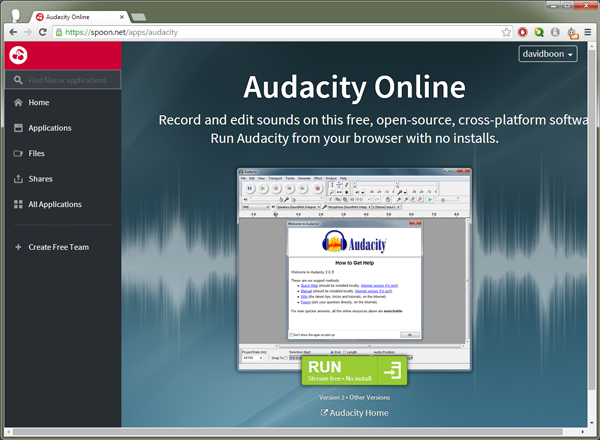 Step 7: There you go, the app will then be streamed to your PC. Once the app is streamed, it will launch automatically.