There is no doubt that Facebook has become one Behemoth of a Social network. Starting from your neighbor next door to your favorite celebrity, everybody is there on Facebook.
Apart from social networking, Facebook can be used for a lot of things  such as promoting new brands, creating invitation for events, following your favorite news channel and lots more.
Currently Facebook is a host to millions of user created Facebook pages and some of these have rose to immense popularity due to their unique and interesting content. I have been following a few of them regularly through my Facebook feeds. These pages range from topics like technology, humor, food, inspiration and much more. Here is our list of top 10 Facebook pages that everybody should like .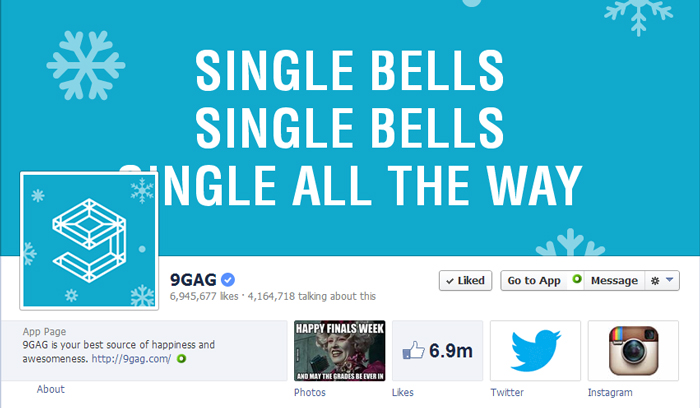 This ultra popular internet community does not need any introduction. 9Gag is definitely one of the most popular communities on the internet. The 9Gag Facebook page regularly shares the most popular funny images from their website and provides Facebook users with their daily dose of humor through their Facebook feeds.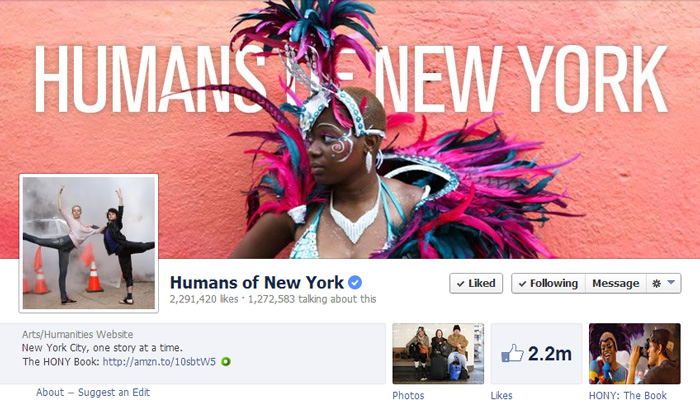 With more than 2.2 million followers, Humans of New York ( HONY ) is definitely one of the most interesting pages to follow on Facebook. Started by Photographer Brandon Stranton, HONY is a photo blog on the diverse people living in New York city. Stanton walks the street of New York city everyday and takes portraits of interesting people.  So far he has taken more than 10,000 photographs of people from NY city.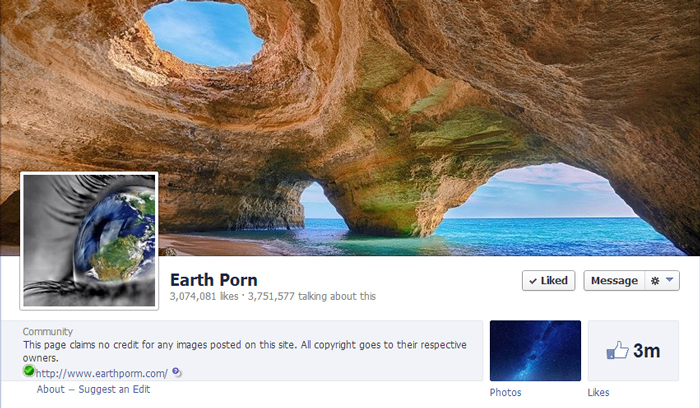 We all have dream of travelling across the globe one day and we are sure one day you will be able to do that. Till then you can like this page and be awe inspired by the beautiful pictures of places across the earth that are shared everyday on this page.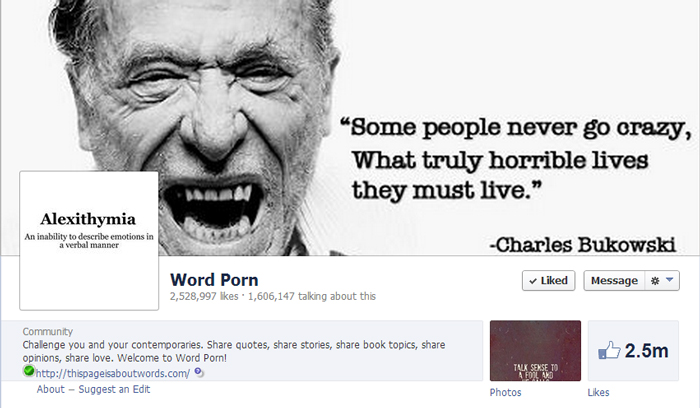 The Word p0rn page shares inspiring quotes and meanings of beautiful words. like this page and get to know about inspiring quotes and meaning of beautiful words.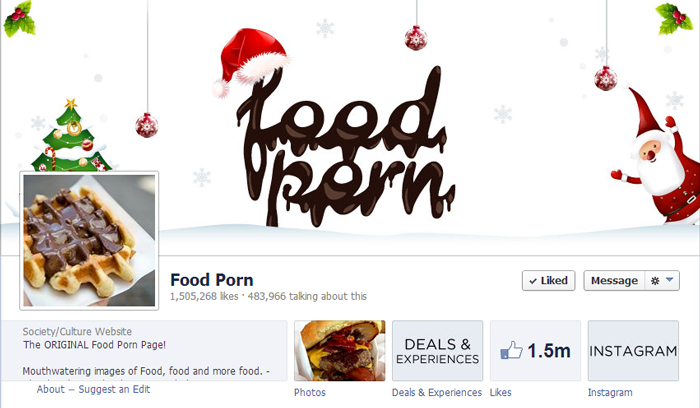 Food p0rn is a page that every Food lover should like. The page shares delicious and mouth watering images of foods from all across the globe. Food p0rn is all about Mouthwatering images of Food, food and more food.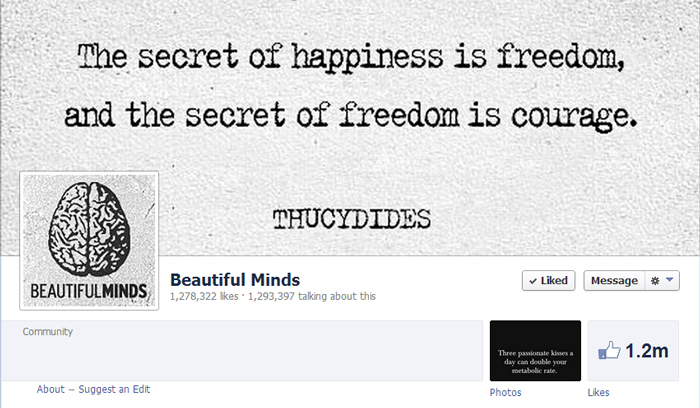 Beautiful minds is another great Facebook page that shares inspiring quotes from great personalities.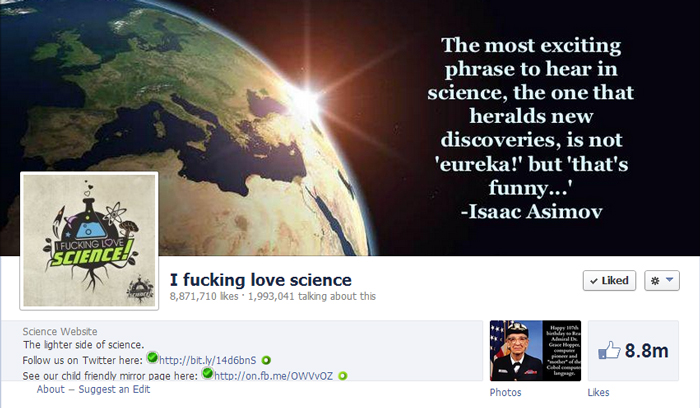 As the title says, I Fking Love Science is a page that is dedicated to everything new in Science. Like this page to stay updated daily with the newest advancements in the field of Science and Technology and even for your daily does of Science humor.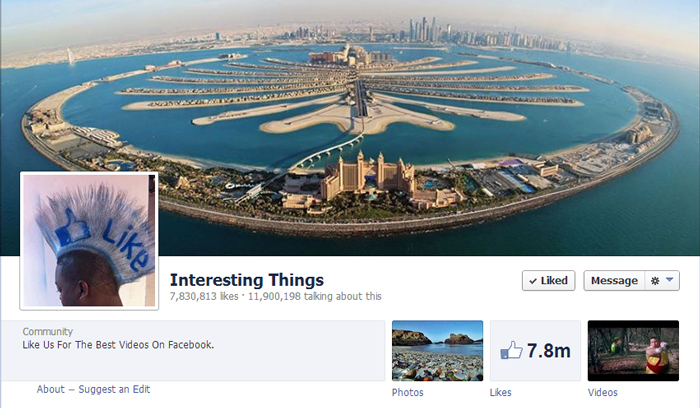 As the name suggests, Interesting things is an Facebook page that shares interesting videos and images about interesting things across the globe.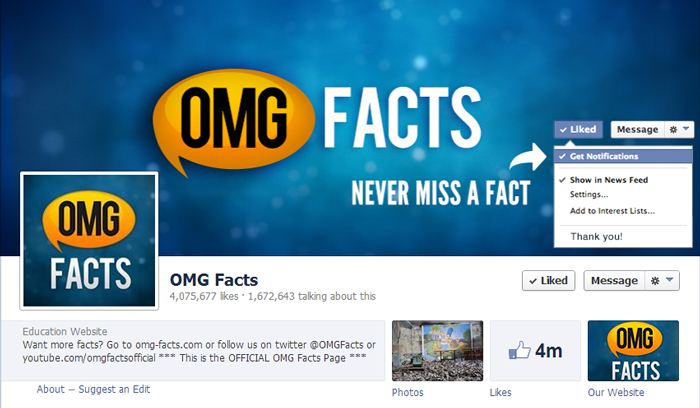 Omg facts is a very popular Facebook page that shares some of the less known and interesting facts about everything in our universe.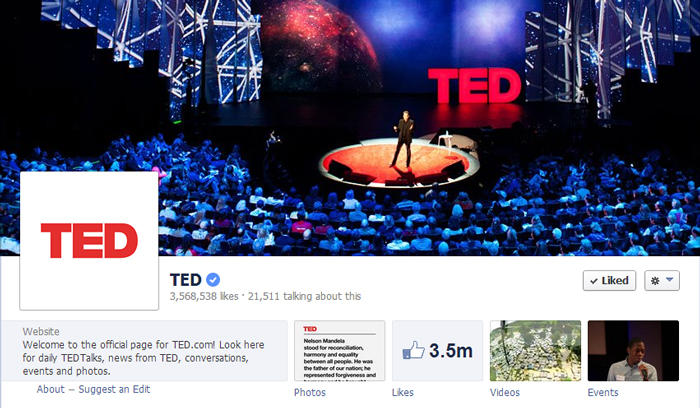 TED stands for Technology, Entertainment and Design. The page shares some very inspiring talks from some of the world's best leaders. Most of these talks are truly inspiring and are a great source of ideas for everyone.