Twitter has introduced a new feature to embed tweets in your blogs  , now you can embed any tweet from twitter in your articles . Embedded tweets can be used to display media like tweets with images , videos and even replies . The embedded tweet will be updated in real time with retweets and replies .
How to embed a tweet in your post :
Click Embed this Tweet, located at the bottom of any Tweet permalink page.
Select HTML, Shortcode, or Link from the pop-up dialog box.
Copy and paste the code provided in the dialog box into your blog or website.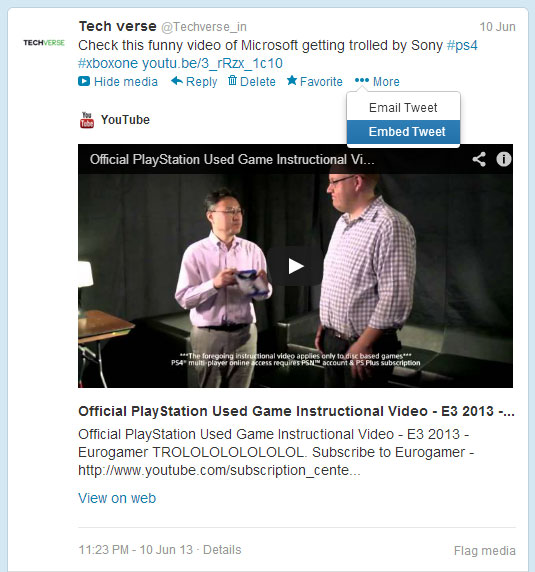 Now youre embedded tweet will be live and functional on your website , like this :
Check this funny video of Microsoft getting trolled by Sony #ps4 #xboxone http://t.co/VvPHRjvAUL
— Tech verse (@Techverse_in) June 11, 2013
If you want to modify the tweets you can :
Modify the Height and width of the tweet :
By deafult the tweet will be of 500Px , You can set the width of the tweet manually by adding a width attribute to the embed code .
<blockquote width="350″>…</blockquote>
Similarly you can change the heiight by adding a height attribute .
Aligning the tweet
By default the tweets inherit the aligning from your post . you can specify the aligning by adding a align attribute to the . You can add align="left" , align="right" or align="center" according to your needs .
blockquote align="left">…</blockquote>
Try embedding tweets on your blog with the method above . Hope you like this post and keep coming back for more .