Google has announced a new device called Chromecast , the device is very similar in looks to a USB flash drive . The device allows you to stream content from Netflix, Google Play and more to your television from your Phone or tablet . Chromecast works with all android tablets , smartphones , Ipads , Iphones and chrome for mac/windows .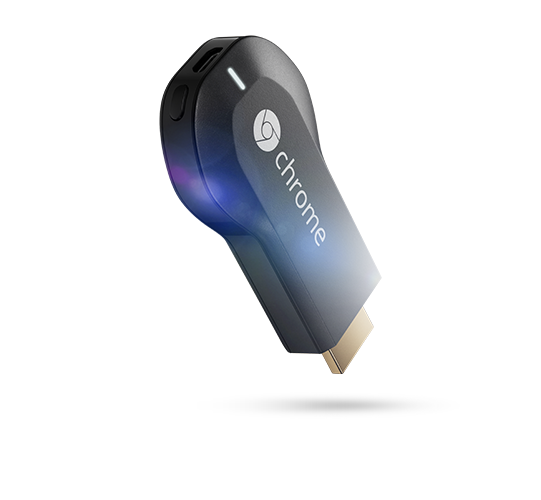 The 2-inch device runs "a simplified version of Chrome OS" and requires separate USB power and it uses 2.4GHz 801.11 b/g/n WiFi . The device comes with an HDMI extended, a USB power cable and a separate power adapter in the box .
Using the Chromecast dongle , you can turn your HDTV into a smart TV instantly . Plug the device into the back of a TV's HDMI port or connect it to the home WiFi .Once connected It will let you stream your favorite movies from your tablet or mobile and enjoy it on the big screen . Using the device you can also surf the internet on your TV and even stream movies and videos from Netflix, YouTube, Google Play . While using Netflix you can stream true 1080p HD videos to your TV .
The device is simply great . it combines simplicity with a el cheapo pricing . while similar devices from other manufactures cost $99 for Apple TV and the $50 for  Roku . Though they provide much more functionality than the Chromecast .
The Google Chromecast is priced $35 , Which is affordable by the masses . The device is available in the US on  the Google Play Store, BestBuy.com and Amazon.com and it ships on Aug 7 . Google has not said anything about the device's launch in India and other countries .
This is not Google's first foray into the TV market , earlier Google had tried to lure away customers with its Google TV software but dues to its sluggish performance the project was abandoned . Similarly Google had also launched the NEXUS-Q set-top box last may but due to negative reviews it was never released to the public . But with the Chromecast being affordable and features packed we think Google has a better chance this time .
You can but the Google Chromecast from these store :