India is witnessing one of the most terrible tragedies to happen so far in its history . Thousands of persons are missing and dead while many are stranded  due to the flash floods in Uttarakhand . Rescue operations are being carried out by army personal in the flood affected areas of Uttarakhand . Due to bad weather conditions there has been many hindrances to army rescue operations .
Internet technology giant, Google Inc. , has come up with its online service for citizens to help track the Uttarakhand flood victims , Google Person Finder: 2013 Uttarakhand Floods .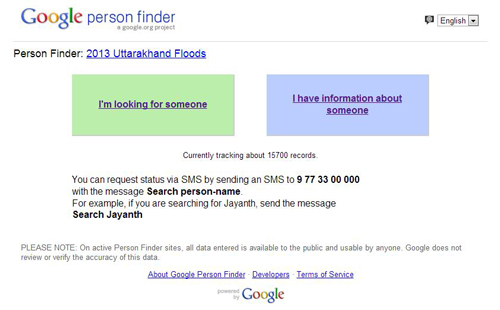 This is a part of Google.org initiative . The website has two options , one can either find out about the missing Uttarakhand flood victims who are already listed in google's database or people with any information regarding the missing flood victims can provide details about them . The tool has the options to add name, physical characteristics, home address, photograph and the source of information.
Google Person Finder is only tracking Uttarakhand flood related data which may be available for 2-3 more months. "Our policy is to delete the data after the immediate crisis has passed and more usual forms of communication are able to serve the need," according to google employees .
Google had first implemented this service during the Hurricane Katrina in USA . The idea of this service started materializing during the Haiti earthquake in 2010 . Earlier, the service was widely used during 2010 Chile earthquake, 2010 Pakistan floods, 2011 Christchurch earthquake among others. The Google Person Finder: 2013 Uttarakhand Floods is expected to be online for the next 2 to 3 months .
You can also request status via SMS by sending an SMS to 9 77 33 00 000 with the message Search person-name.
For example, if you are searching for Jayanth, send the message Search Jayanth
We are praying for the Uttarakhand floods victims and hope for their safe return . Do share these information with your friends and families .