Gif images have become very popular on the internet right now . If you have ever tried to Share Gif images on Facebook , you would have already found out that Facebook doesn't show any love for Gif images and does not support sharing Gif images . The reason being Facebook officially does not  support Gif images and that is why users are not able to share them .
Fortunately there is a workaround for sharing Gif images on Facebook . You can use Giphy , a search engine for Gif images . All Giphy does is create a Iframe code for a GIf images , which can be shared on Facebook like YouTube videos . There are two ways to share GIf's from Giphy on Facebook . GIf's can be shared on Facebook by either using the share button or copying an Iframe based embed code , which you can paste in your status box or your friends timeline and share it . Your friends can see a play button on the Gif and when they click it , the Gif will play and keep on looping .
The only problem with Giphy right now is , you cannot create your own Gif and share it on Facebook . You can only share whatever Gif's are available on Giphy . But being a search engine , Giphy does have a lot of GIf's .Follow these instructions to share Gif's from Giphy on Facebook .
Instructions to share Gif's on Facebook 
Step 1: Open Giphy on any web browser .
Step 2: Use the search bar in Giphy to search  for any kind of Gif you want .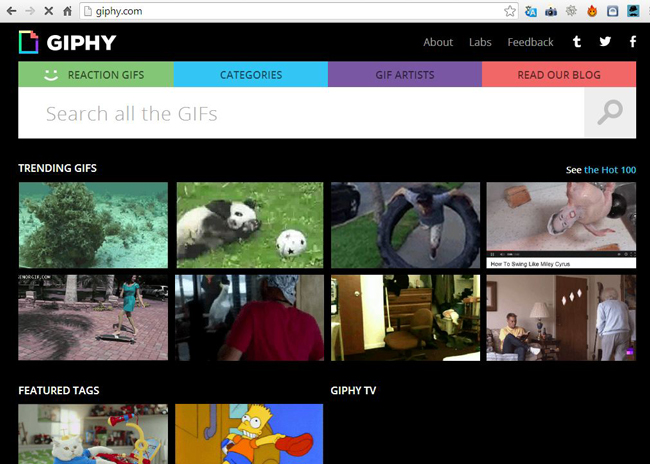 Step 3: Open any GIf you like and you will be provided with a link and options to share it on various sites including Facebook . You can either click share to share a Gif with your friends or Click on embed and copy the embed code provided .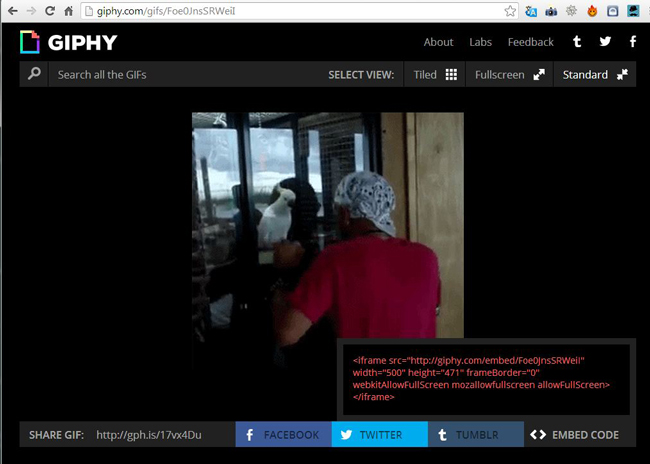 Step 4: Copy the embed code and open Facebook , paste the embed code from Giphy into your status box or your friend's timeline , click share and your friends can now enjoy your Gif's .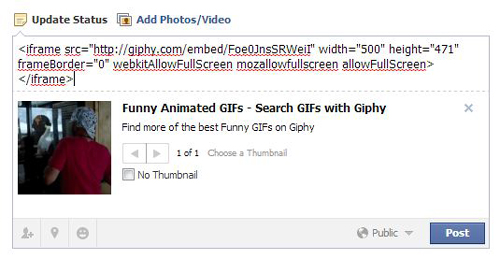 Try out this simple workaround to share GIf images on Facebook and do let us know of any similar services you know of .