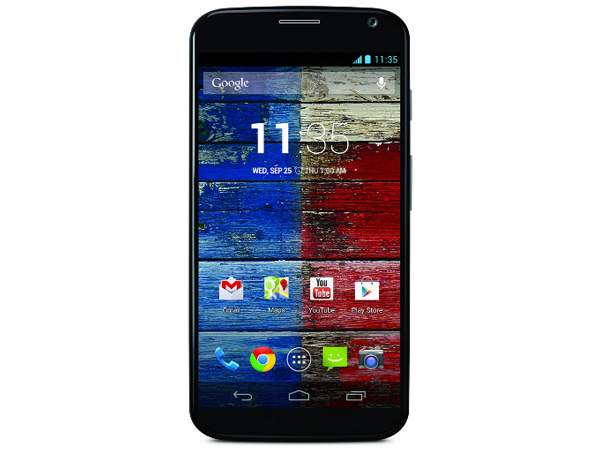 The Motorola Moto X is now announced and the specs have been made public . After the acquisition of Motorola by Google , the Moto X is the first phone that is developed by Google .The New Moto X  will  become the first ever smartphone to be entirely designed and assembled in US . but the internal hardware for the Moto X will be still procured from Asian factories . lets us go through a brief review of the new Moto X and see what new features does it have in store for us .
Design
Design wise the phone looks absolutely fine . The Moto X fits perfectly into your hand thanks to its slightly curved back .The phone is 129.3 mm high and 65.3 mm wide and thickness of the side profile varies from 5.6 mm to 10.4 mm . The Moto X weighs 130 Grams quite similar to the galaxy S4 .
The New Moto X is going to be the most customizable phone till now . A new Moto maker service will allow customers to choose from 2 front colors , 18 back colors, 7 accent colors and even a option to print any message on the back . All this is inclusive within the retail price and motorola ensures that the phones will be delivered to  the customers within 4 days of the order . you will also be able to include matching Sol Republic JAX in ear earphone with your order .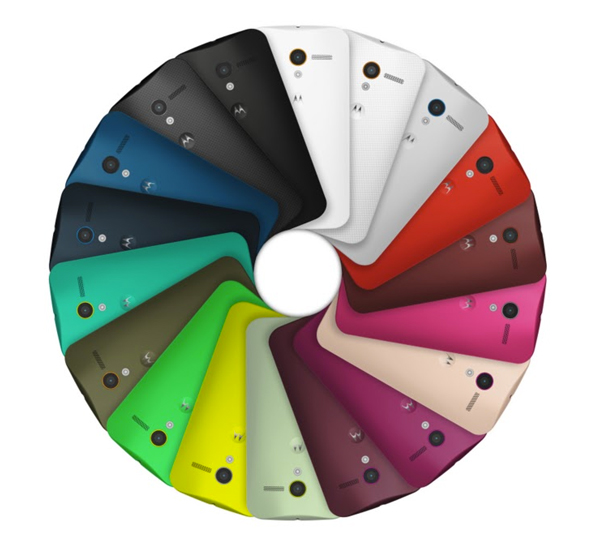 Display
The Moto X has a 4.7 inch AMOLED display with a 1280*720p resolution . While almost all flagship smartphones from other manufactures come with a 1080p resolution display as default . The display has a pixel density of 316 ppi which is good enough for viewing and  reading on the 4.7 inch display .
Processor and memory
Spec wise the New motorola Moto X adapta a new technology called the X8 Mobile Computing System , Its nothing more than a marketing gimmick , Since there is no actual 8 core based processor inside the phone . Rather the Moto x has 8 core in all including the processor which has two cores , Four cores in the GPU and two other cores for dedicated natural language processing and context computing processor. We don't think that amount of hardware will be capable to defeat the Octa core Exynos 5 in benchmarks But neither we want to underestimate its power .
The Moto X is powered by a dual core Snapdragon S4 Pro running at 1.7 GHz with a Adreno 320 GPU with four cores . The phone has 2GB of RAM .
As with all Google phones The Moto X too ditches the concept of an external storage . The Moto X does not have any options for external storage , instead google will be providing 50Gb worth of Google Drive storage for Moto X users for a period of two years . the Phone will be available in two variants of 16GB and 32GB.
Camera
The moto X implements a new camera technology called Clearpixel so does the new HTC ONE X with its Ultra pixel technology . The Moto X has a 10 MP Camera that which has been developed especially for capturing amazing low light pictures at night and Blur free pictures in the daylight . The smartphone supports full HD 1080p video recording with the rear faced 10Mp camera and the front facing 2Mp camera .
Moto has introduced a new gesture based app for taking photos . the feature is called " Moto X quick capture " . To access this feature you need to twist your wrist . Check out the quick capture feature below :
Software
The smartphone comes with Android 4.2.2 , which is quite a disappointment but Motorola has .assured of a Update to Android 4.3 s soon as the phone launches .
Motorola has a new feature on the Moto X called " Always on " .  A 24*7 speech recognition system which will indeed be always on . The Moto X always on feature will provide a hands free experience to the device owners . Anywhere and anytime the Motorola will be always looking for your voice commands . Specially for this feature Motorola has included a independent CPU core for processing voice commands .
Check out the Always-on feature below:
Battery
The Moto X comes with a 2200 mAh li-ion battery .
Pricing and availaibility
The Moto X will be available for sale first in the US with five major cellular networks which are Verizon, AT&T, Sprint, T-Mobile, US Cellular, The Moto X is suggested to retail at $200 for the 16GB version and $250 for the 32GB version . There is no information regarding where google has its plan to launch the phone in India or  other countries  . Sooner or later it might hit other countries but the timing does matter otherwise other manufacturers might overshadow the Moto x with their upcoming android phones .
A unlocked version of the Moto X will be available later this year on the Google play store whose pricing will be announced later .
Motorola Moto X Specifications
CPU: Dual core Snapdragon S4 Pro (MSM8960Pro) 1.7 GHz
Display:4.7-inch AMOLED (RGB) 1280×720
Ram: 2 GB LPDDR2
Storage: 16GB standard, 32GB online, 2 years 50GB Google Drive
Battery
Camera: 10Mp rear facing camera, 2Mp front facing camera
OS: Android 4.2.2 ( Upgradable to Android 4.3 after launch )
I/O : microUSB 2.0, 3.5mm headphone, NFC, Miracast
Connectivity: LTE, HSDPA+ (4G) 42.2 Mbit/s, HSUPA 5.76 Mbit/s, UMTS, EDGE, GPRS, GPS,  A-GPS, S-GPS, Glonass , Bluetooth 4.0
Price : $200 for 16GB variant / $250 for 32GB variant on 2 year contract
Conclusions
Overall Motorola has a great job on the design of the phone but with its aging hardware it seems motorola is banking more on the handsets looks and customisation features for success . The Moto X is way behind the flagship smartphone by other manufacturers . We still have to wait for the device's benchmarks which shall reveal how power the Moto X is . Since this is Google's first venture with its own smartphone  ,  it might means that google does not intend to take the Moto X seriously . Google might be using this opportunity to learn more about the consumer reactions and expectations , which will enable it to develop a best selling android smartphone in the near future .
For more information visit the Moto X website